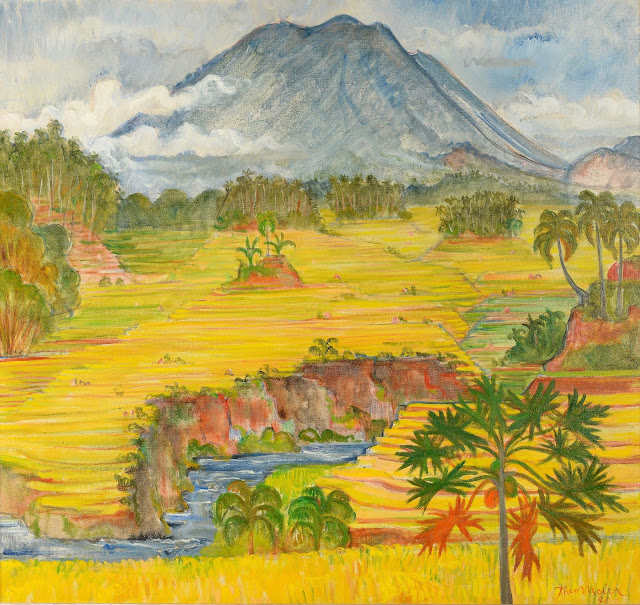 THEO MEIER (1908-1982)
'Landscape with Gunung Agung, Bali',
signed and dated '48 lower right,
canvas. 74 x 80 cm.
€ 20.000 – 30.000
Indonesian auction, 5th of December 2017
'….I began to realise that the tropical landscape is not at all as we see it. It is, rather, an experience. This landscape is warm in tone, and so I simply started to paint my pictures over a reddish priming coat. When the painting is finished, it is redder than Nature, yet it conveys the landscape accurately. One must 'translate'. Nowadays, the colours in my paintings more than ever come from my imagination. Some colours are particularly attractive to me. Those yellow tones, those warm ochre tones, red, muted red – these are colours which clearly play a great role with me. Music, in which I love to indulge, is played for me in these tones. […] I often work with blue outlines. Blue is sort of a handwriting that goes across the picture to emphasize something. I feel this to be beautiful. […] In Bali […] everything has a cosmic significance. The mountain is high, and is frequently in the clouds, and these are blue and also black, according to the Balinese. Brahma is red, warm as fire. The Sun is yellow; between red and gold, and the Sun is Life.'
(Theo Meier, in Klaus Wenk, Theo Meier, Bilder aus den Tropen, Verlag Stocker-Schmid, Zürich, 1980, p. 29-30)
The above quotes tell us a lot about Theo Meier, his painting style and his inspirations. Born in Basle, Switzerland, in 1908, Theo Meier attended the local Fine Art Academy in 1928. A year later, he went to Berlin and Dresden, where he met Max Liebermann, Karl Hofer, Otto Dix, and Emil Nolde. The latter had been part of Die Brücke, a community of expressionist painters. Meier was directly influenced by them, especially Otto Dix (1891-1969). Apart from that, Paul Gauguin (1848-1903) greatly inspired Theo Meier's travelling ambitions and especially the way Meier's painting style evolved. After having attended an exhibition in Basle of Gauguin's work, Meier decided to visit Tahiti in 1932, but returned in 1934. In 1936, Meier traveled back to the tropics, this time to Bali. He first settled in Sanur, but six years later he moved to Iseh, near Gunung Agung. The tropical light and the symbolism of colour in Balinese culture must have influenced the way Theo Meier expressed himself onto canvas. On a less artistic level, Theo Meier had a penchant for alcohol, leading him to often be intoxicated while painting, which to a certain extent must have had an artistic effect on his paintings too. In 1956, he returned to Basle, and a year later moved to Thailand, where he would live until 1981. After a most productive life, Theo Meier passed away in Berne, Switzerland, in 1982.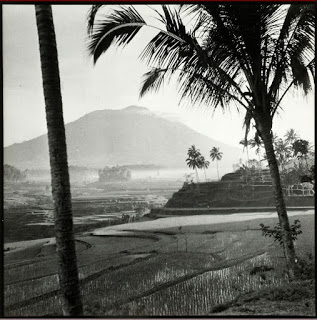 Iseh and Gunung Agung, April 1952. Photo: Paul Spies.
From 1942 onward, Theo Meier's studio was situated in the Balinese village of Iseh, only ten kilometres south of Gunung Agung, Bali's highest and holiest mountain. The view over the multi-layered sawah is breathtaking. The rice fields, exuding tropical heat, and waiting to be harvested, are captured magnificently in vibrant ochre brush strokes, with a proud, quiet Gunung Agung in the background.
'According to the Balinese cosmological order the Gunung volcano, dominating the island, is not only the center of the world around which the orientation system is articulated (kaja toward the mountain, kelod towards the sea), but also considered a living god. This divine presence brings death and desolation when erupting. The last eruption dates from 1963 and destroyed part of Meier's house in Iseh. The volcano brings agrarian prosperity thanks to his ashes that enrich the rice fields with natural fertilizer. The majesty and wealth of this unique landscape, visual icon of Bali, can be seen in Landscape with Gunung Agung.'
(source: Georges Breguet, Theo Meier, a Centenary Tribute, 2008, p. 93).
Gianni Orsini, November 2017
Provenance:
Bought directly from the artist on Bali, 1948. Thence by descent.
Literature reference:
– Hamel, D., Theo Meier, a Swiss Artist under the Tropics, Hexart Publishing, Jakarta, 2007,
very similar paintings are illustrated on p. 63, plate 112, and p. 109, plate 179;
– Breguet, G., Theo Meier, a Centenary Tribute, Pasifika Museum, Bali, 2008,
a very similar painting is illustrated on p. 45, plate 26 (the same painting as Hamel, p. 63).
More information about our Indonesian auctions (Indische veilingen):
René de Visser
Zeeuws Veilinghuis
Herengracht 74
4331 PX  Middelburg
0031 (0)118-650680