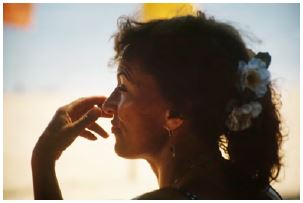 My mother, Felicitas Fischer, came to Bali for the first time around 1972, as far as I know. This first time she was accompanied by a travel agent, Marga Thinnes, who became her friend later on. Indonesia, and especially Bali, attracted her magically since then. This was certainly due to the extraordinary people, the nature-loving religion, and the harmonious landscape, which she also included as a passionate amateur painter in her heart. All in all, she visited Java and Bali more than seventy times. After 2001 she was no longer able to travel, as advancing dementia made independent travel impossible. In the advanced stage of the illness, when she no longer recognized anyone, I played music to her, especially gamelan music, which always conjured up a special smile on her face. The magic of Bali extended far beyond the normal mind.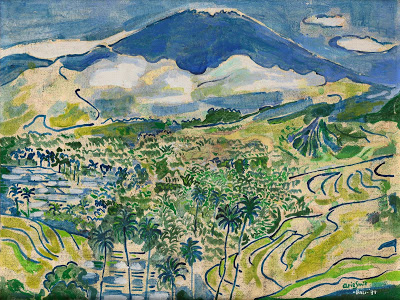 One of the four paintings by Arie Smit in the auction of the 5th of December 2017.
In 1980 and 1984 I accompanied my mother on two trips to Indonesia and Bali. In 1984, I also met Arie Smit in person. My mother once told me that Arie knew how to express the exceptional light and magic of Bali in his paintings, something she could never have done. It is significant that I do not know whether she has ever painted a picture of Bali herself. There were strong ties between my mother and Arie, based on mutual respect, their artistic views and, of course, their shared love for Bali. Whenever she was on Bali, she visited Arie. Over the years, she bought eight of his pictures, which hung at her favourite places in her house on the Holderlinstrasse 21 in Offenburg, probably to have the magical connection to Bali always in her presence. In my memory, Arie was a tall, slender man with a special charisma that captivated you immediately. His cordiality is still well remembered. Even though I did not inherit the artistic vein of my mother, I felt a cordial familiarity with Arie, which certainly was reciprocal. On the postcard which is shown here, he also mentions me (in the past my nickname was Billy).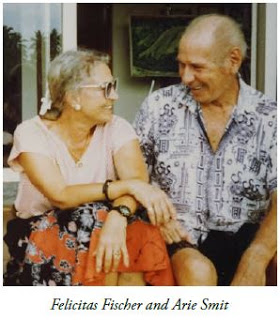 Unfortunately, it was impossible for me to accompany my mother again during one of her travels to Bali. After her death (26-03-2012), I had the task of sorting and cataloguing my mother's estate. The pictures of Arie passed through my hands again. Today, five years after her demise, I want to part with a few of his pictures. The memory of them both is still preserved.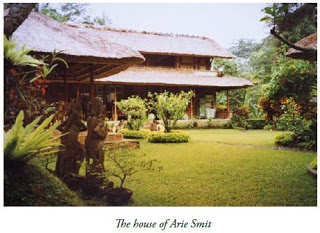 Matthias Louis Fischer
More information about our Indonesian auctions (Indische veilingen):
René de Visser
Zeeuws Veilinghuis
Herengracht 74
4331 PX  Middelburg
0031 (0)118-650680