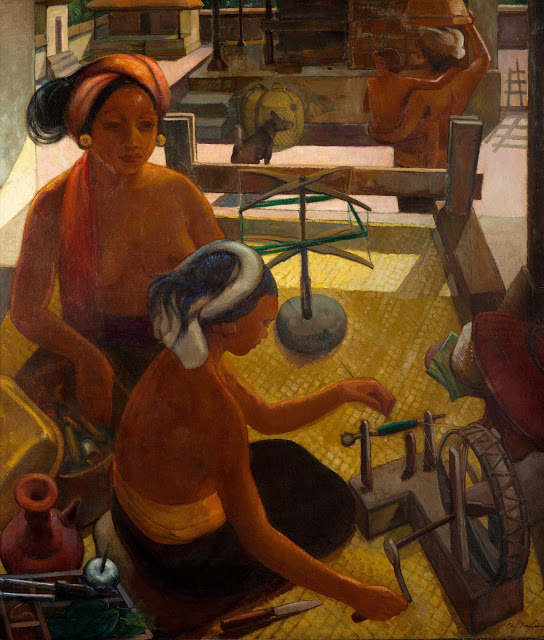 Charles Sayers – 'Weefsters' (Weavers), signed lower right, canvas. 150 x 131 cm.
Charles Sayers was born in Gemuh, Central Java, in 1901. At the age of eleven, he is sent to the Netherlands to receive a formal education. From 1920 until 1923, Sayers attends the Royal Academy of Fine Arts in Amsterdam, under Derkinderen, Jurres and van der Waay. Following his education, he spends 4 years in Paris, before returning to Java. From 1932 until 1934, Sayers lives in Bali. By that time, he has become a well-known painter, exhibiting frequently and receiving commissions for murals and portraits of state officials, mayors and upper-class civilians. In 1939, Sayers and his wife and daughter move to North-Sumatra, where he meets and befriends Albert Smook. Sayers stays at the Smook house to portray their son Aycke, and Sayers even helps them to get rid of a wild boar that ruins the vegetables in their kitchen garden. Both Sayers and Smook live near Medan, and when Sayers exhibits his Balinese paintings at the Medan Deli Fine Arts Circle, in November-December 1939, Smook decides to buy 'Weavers'.
Less than three years later, Sayers and Smook are both interned by the Japanese. Smook survives and is able to save 'Weavers' from the horrors of war. Sayers, however, is forced to work on the Burma Railway, and in 1943 tragically dies from malaria and malnutrition, at the age of 42.
'Weavers' is certainly an attractive painting. The top half is bathed in sunlight, with the two figures in the foreground placed in the shade of the open pavillion's roof. Though the main action occurs in the lower half, the viewer's eye is immediately drawn to the brighter upper half. (…) Moreover, though Sayers did not usually include excessive detail in his work, he included a box with weaving shuttles and spools of thread behind the two women, with obvious pleasure. A box of tools used to make a sirih quid has been placed alongside the water jar. Sirih scissors and betel leaves can also be seen.'
(van Brakel, op. cit., 2004, p. 76)
Sayers' painting style evolved from a romantic style (especially visible in some of his earlier portraits) to an impressionist style (especially in his landscape painting), in which the bold, fearless brush strokes are reminiscent of the vigour of Isaac Israels (1865-1934). In the early 1930s, Sayers started using more cubistic elements in his work. This is no coincidence, considering Sayers was acquainted with Jan Frank Niemantsverdriet (1885-1945). In 1934, Jan Frank, Charles Sayers and Henry van Velthuysen (1881-1954) were asked to (re)paint portraits of past Dutch East Indies Governor-Generals. These commissions were executed in a realistic style of painting, but apart from that, both Frank and Sayers became known for their subdued, cubist style with a sense of stillness and mystery.
What differentiates Sayers from Frank and van Velthuysen though, is an alienating use of perspective. In the foreground of 'Weavers', we are observing a near-top view of the scene, while in the background, we seem to be looking at the young mother carrying her child in side view. This creates an exaggerated sense of depth, which is amplified by the unusual one-point perspective, the lack of a visible horizon, and the tropical sun coming from the back, creating powerful backlit shadow effects.
The dramatic shift from top view to side view in one scene is applied several times in Sayers' work. He creates the same effect in the highly dynamic Sanghyang Dedari (op. cit., p. 73), dated 1933. One can assume that Weavers, being exhibited early 1934, was executed by Sayers in 1933 as well.
Considering the maturity of Sayers' style, the iconic use of perspective and light, a Balinese theme which is most pleasant to behold, the sheer size of this work, and the scarcity of Sayers' artistic oeuvre, it can only be concluded that we are dealing with a monumental painting by a still underestimated artist.
Gianni Orsini, November 2017
Provenance:
– Private collection of Albert Hendrik Smook (1907-1983),
a surgeon who acquired 'Weavers' directly from the artist at the
Deli Fine Arts Circle exhibition, Medan, 1939.
– Thence, by descent.
Literature:
– van Brakel, K., Charles Sayers 1901-1943, Pioneer painter in the Dutch East Indies, KIT Publishers, Amsterdam, 2004,
illustrated on p. 75 & on the back cover, and catalogued on p. 140, no. 144.
– Het Nieuws van den Dag voor Nederlandsch-Indië, December 15, 1937, p. 6, illustrated;
– De Indische Courant, December 15, 1937, p. 13, illustrated.
– d'Oriënt (?) magazine, Charles Sayers, March 1934, illustrated, p. 21.
Exhibited:
– Kunstzaal G. Kolff & Co., Batavia, March 17-31, 1934, no. 5 at Dfl. 700,-;
– Bataviasche Kunstkring, Batavia, December 17, 1937 – January 16, 1938, no. 1, at Dfl. 1,000,-;
– Batavia Lodge of the Dutch East Indies Theosophical Society, November 19-26, 1938, at 1,200,-;
– Deli Fine Arts Circle, Medan, November 27-December 3, 1939, where sold for Dfl. 950,-;
– Tropenmuseum, Amsterdam, Indisch Portret, Charles Sayers (1901-1943) schilder en verzamelaar,
October 14, 2004 – January 30, 2005.
More information about our Indonesian auctions (Indische veilingen):
René de Visser
Zeeuws Veilinghuis
Herengracht 74
4331 PX  Middelburg
0031 (0)118-650680