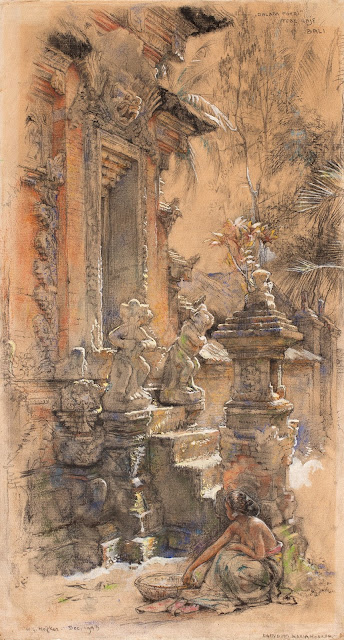 Willem Gerard Hofker (1902-1981)
'Dalam Poeri', conté crayon and gouache on paper. 48,5 x 26,5 cm.
Signed and dated Dec. 1943 lower left.
Titled and 'Tebesaje Bali' upper right and
'eigendom Maria Hofker' lower right.
Verso: signed again, and 'Bali'.
€ 30.000 – 50.000
Auction 5th of December 2017
Willem Gerard Hofker (1902-1981), educated on the Royal Academy of Arts in Amsterdam, is well appreciated for his portraits and cityscapes. But his Balinese oeuvre, which he created on the island from June 1938 till December 23th of 1943, made him known across many international borders. Quoting Hofker's comments on this unexpected success in November 1945, when residing in Makassar: (…) 'The last three years I expanded my clientele over the whole Pacific, from Tokyo to Melbourne! But of course, you understand that I only owe this acknowledgement to Bali, which is found equally charming and unusual.'
In the five years that Willem Hofker and his wife Maria lived in Bali, they were deeply involved in the daily lives of the local people and got well acquainted with their culture and traditions. Well kept documents, written by them both, show detailed knowledge about and admiration for customs, rituals and places of great architectural beauty. Especially Maria explored the island and found extraordinary sites. On these trips she was often accompanied by Marianne van Wessem, who was trained in Asian art and lived in one of the pavilions of Walter Spies in Champuan, adjacent to the Hofker's premises. In January 1940 Maria wrote: '(…) Marianne and I make beautiful research trips to look for Hindu fragments and we have drawn many deities like Ganesa and Singa. We have certainly been in twenty temples already.'
This presented drawing, titled 'Dalam Poeri Tebesaje', was made in the last month of 1943, before Hofker left Bali – forever, as it turned out. It depicts a magnificent temple entrance, a Kori Agung. Maria discovered this sanctuary dedicated to Durga and her consort Siwa, deities of death and reincarnation, behind a split gate showing enormous sculptures of Rangda, the widow-witch with her flaming tongue. Maria came across the temple on her walk to Budulu, where she frequently visited a Dutch friend by the name Alphons or 'Fons' Bonnike.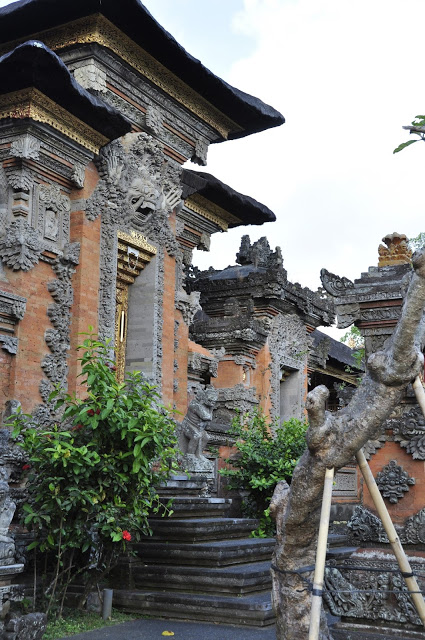 Dalam Puri, Bali. Photo: Seline Hofker, 2015.
Hofker depicted the temple rising high into the sky by using the whole paper upright. He positioned himself out of its center to capture as much detail as possible of this Pura Dalem Puri, located in Tebesaye, a community of Peliatan in the Gianyar regency. In the oeuvre of the artist, as we know now, no other conté drawing shows this much detailed statuary. Under the roof of thick black alang-alang grass the Karang Boma shows his terrifying big teeth and long-nailed hands to protect the sanctity of the temple against negative influences. The elaborate floral ornaments, Patra Punggel, are positioned on both sides of the main doorway. They ultimately merge in Kekarangan on the doorstep, the animal head carvings of Gajah, Guak, Tapel and Asti. The pair of mirrored gate guardians called Dwarapala on either side of the door provide the essential balance of positive and negative. Beside the moss-clad stairs, which are accentuated with white gouache to represent the sunlight, stands the shrine Apit lawing. With its tall upward repetitive steps and a lotus ornament on its side, the shrine provides a shade for the squatted girl who is preparing the offerings in her basket. The pentimenti that Hofker left around her head and with her reaching arm add life to this petrified stilled monument. The whole picture, including a young frangipani tree rising just above the shrine and the palm leaves in the background, shows a realistic image of Bali, where everything has an artistic existence and is part of their religion in absolute serenity.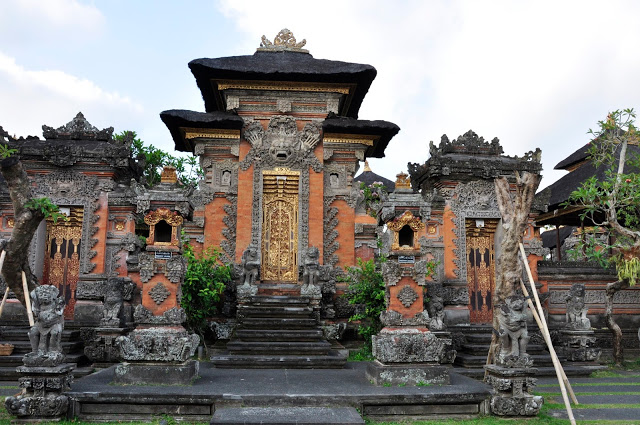 Dalam Puri, Bali. Photo: Seline Hofker, 2015.
The drawing is marked on the right bottom with the words 'Eigendom Maria Hofker' (property of Maria Hofker) in capital letters. Very few of Hofkers works carry this note, making it stand out as a piece that was not meant to let go. A gift from Willem to Maria was that it would remain to be 'a memento of Bali' and perhaps also of their friend Fons, who had not survived the cruelties of war. History tells us that they were not able to keep it for long. In the winter of 1946 the Hofkers sailed back to Holland. Quoting Maria as she wrote on board of the MS Tegelberg: '(…) ourselves and Wim's art is all we bring! We are rich with experiences and beautiful memories.'
Rebuilding their life in Amsterdam, in the after war circumstances, was not easy and many of the Balinese work was sold that same year. This Dalam Poeri Tebesaje passed on to a new owner in 1948 and can now be considered to be one of Hofkers best and most detailed drawings depicting a Balinese temple.
Provenance:
Acquired directly from the artist in 1948 by J.A. van Tienhoven (1907-1971), architect and designer of no less than 250 Dutch and foreign passenger ships interiors. Thence by descent. Discovered in France by Seline Hofker in 2010.
Literature:
– Carpenter, B.; Willem Hofker; Painter of Bali, Pictures Publishers, 1993,
mentioned on page 204 as 541: Dalam Poeri Tebesaje, December 1943.
– Hofker S. and Orsini, G.; Willem Gerard Hofker (1902-1981), Uitgeverij de Kunst, Zwolle, 2013,
illustrated on page 140.
Seline Hofker, September 2017



More information about our Indonesian auctions (Indische veilingen):
René de Visser
Zeeuws Veilinghuis
Herengracht 74
4331 PX  Middelburg
0031 (0)118-650680