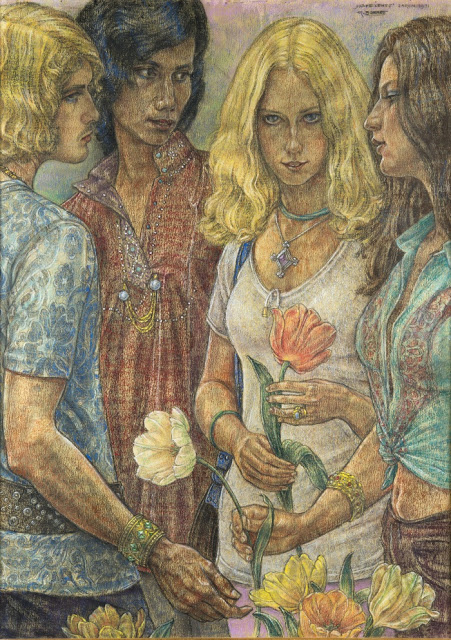 Our next auction of Indonesian paintings contains this masterpiece by Rudolf Bonnet. The depicted persons are students of an art academy in the Netherlands in the hippie era, the owner (98 years old!) told me.
But was it Bonnets intention to make a Dutch subject in this case? I am not sure.
One of the students is an Indonesian man. With some imagination it could also be seen as 'students on holiday on Bali' in my opinion.
Rudolf Bonnet (1895-1978), 'Hippe lente', 100 x 72 cm
This work (which we found in Spain) will be auctioned in our Indonesian auction of the 5th of June, because most collectors of Bonnet live in Indonesia.
More information about our auctions of Indonesian paintings(veilingen van Indonesische schilderijen):
René de Visser
Zeeuws Veilinghuis
rene@zeeuwsveilinghuis.nl
www.zeeuwsveilinghuis.nl