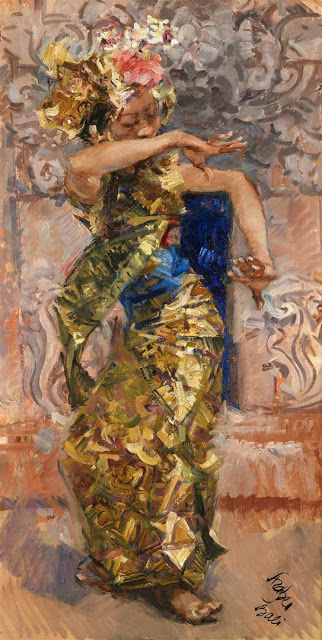 Roland Strasser (1886-1974)
'Balinese Legong Dancer'
Roland Strasser (1886-1974)
'Balinese Legong Dancer'
oil on canvas
97 x 50 cm
signed and annotated 'Strasser Bali' lower right
signed again and numbered 12B on the verso
Provenance:
– acquired directly from the artist in 1972, by the current owner;
– private collection, United States, 1972-present.
€ 35.000 – 50.000
"By this tramp of five years through Asia I wanted to justify my rights as a human being and, under boundless skies, without any set purpose or limitation of time, to come into contact with Nature herself with courage and endurance, and without negation."
(Roland Strasser, in: Strasser, The Mongolian Horde, 1930, pp. 15-16)
Although this 1930 quote clarifies the essence of Strasser's vision on life, his 'tramp through Asia' lasted much longer than five years. He reluctantly left the fascinating continent in 1946, imbuing him with a deep understanding of Asian, and especially Balinese culture.
With a French mother, a Spanish sculptor and Fine Arts professor as a father (Strasser's Basque family name was actually Quirquez), and born in Vienna, Roland Strasser had several cultures running through his veins. During his childhood, Strasser was greatly influenced by his father, award-winning sculptor Arthur Strasser (1854-1927), and first developed his artistic skills in his father's studio. In that sense, it was no coincidence that between 1911 and 1914 Strasser not only studied drawing and painting, but also sculpture at the Vienna Academy of Fine Arts as a pupil of Rudolf Jettmar and Julius Schmidt, and at the Munich Academy under Angelo Jank. After his studies, he worked at the Imperial and Royal Infantry as a war artist during World War I, resulting in both quick, almost caricatural sketches and impressive canvases showing complex, gloomy compositions.
In 1919-1920, Strasser went to the Netherlands, working in the peninsula province of Zeeland, and in the picturesque village of Volendam. Here, he mainly made portraits, and was himself portrayed by the well-known Dutch artist Willy Sluiter (1873-1949), who would travel to the Dutch East Indies in 1923. Strasser earned enough money from selling his drawings and paintings to allow him to travel even more.
In 1920, Roland Strasser set off for Siam (Thailand), after which he worked in the Dutch East Indies from 1920 until 1922. He first went to Sumatra, then to Java and Bali, and after a four-month sojourn through Dutch New Guinea and several other islands, returned to Bali early 1921, where he met Willem Dooijewaard. After a successful duo-exhibition in Batavia with Dooijewaard in 1922, the two of them left for China in the autumn of that year. Between 1923 and 1930, Strasser travelled extensively across Central and Southeast Asia. He worked in China, Mongolia, Tibet, India, and Japan, and organized exhibitions in Europe almost every year. After returning to Vienna in 1927, he married Enrica Luise, who would join him in most of his later travels. Late 1930, he accompanied Dooijewaard to Japan, where he witnessed Dooijewaard's marriage in January, 1931. He then joined the newlyweds on their honeymoon to Bali, where he was mesmerized once again by the 'Island of the Gods'. In 1932, Strasser and Dooijewaard exhibited their work in Batavia and Surabaya, and subsequently, Strasser had exhibitions in New York and Honolulu (1933), and in London and Paris (1934). He then returned to Bali with Enrica, where they lived a secluded life in Kintamani until 1946.
Roland Strasser was a world traveller, defying hardship and unexpected danger; during his 1920s travels through Asia, many of his artworks were confiscated or destroyed by looting soldiers. But this did not stop him from exploring the unknown. On the other hand, he was a solitary person who preferred quietude over crowds. Knowing this, one might understand his love of unspoilt nature, and unspoilt cultures. He reminisced about Bali '…like a perfect dream, content in its commerce with the heavens, deep in the awareness of its people, and quite oblivious to Occidental questionings and speculation.' (Roland Strasser, in: Lovoos, American Artist, 1960, p. 33)
The home-cum-studio that Strasser and his wife Enrica had created in Kintamani, northern Bali, was far away from the hustle and bustle of South-Balinese villages like Denpasar and Sanur; these were rapidly developing into Beau Monde tourist hotspots already during the 1930s. But even in this remote Kintamani home, he constructed a secret getaway door, just in case curious visitors would turn up at his doorstep. All this did not mean he was an absentminded hermit though; Roland Strasser and Enrica were acquainted with quite a number of fellow-artists who had resided or would later reside in Bali. Already in 1922, Strasser would meet fellow-Austrian Carl Fahringer (1874-1952) in Bali. In 1937, while living in Kintamani, he frequently met up with W.O.J. Nieuwenkamp (1874-1950), and a year later, he befriended Willem Hofker (1902-1981) and his wife Maria. After settling in Australia in 1946, Strasser became part of a Sydney-based artists' collective called The Merioola Group, which also included (fellow-)sculptor Arthur Fleischmann (1896-1990) and Donald Friend (1915-1989). In 1952, Roland and Enrica moved to Santa Monica, California, where Antonio Blanco (1912-1999) paid them a visit in 1957. For Blanco and for his Balinese wife Ni Ronji, this was both a delayed honeymoon and a world tour. It turned out Blanco and Strasser -with their Spanish backgrounds and their Balinese hearts- connected really well, and Blanco even made a portrait of him. In return, Strasser made three sketches of Ni Ronji, who was a famous Balinese dancer at the time. Strasser's first and most cherished friendship, however, was with Dutch artist Willem Dooijewaard (1892-1980). When the two artists met in 1921 in Bali, Strasser initially became Dooijewaard's mentor. Yet, after having travelled together through Southeast Asia for so many years during the 1920s and early 1930s, their friendship became very close, and even their painting styles grew similar, to the point that in some cases, it's hard to distinguish Strasser's work from Dooijewaard's.
'What I found in Bali was […] the soothing inducement of a delightful language and charming people. Here the nights were ablaze with distant stars and always full of the syncopated music of the Gamelans which accompanied dance and drama. […] The people were shy and unaccustomed to being painted as they engaged in cock fighting, ritual dancing, or their professional ceremonies. It was truly fascinating to work and live among such graceful wealth of everyday life.'
(Roland Strasser, in: Lovoos, American Artist, November 1960, pp. 33-35)
The above quote was taken from a 1960 interview by Janice Lovoos. Her publication on Strasser proved instrumental for a revival of the interest in his work. For the current owner of 'Balinese Legong Dancer', an American artist who would eventually portray indigenous cultures himself, this publication was the impetus to contact Roland Strasser. In 1972, he traced Strasser's phone number and called him. After introducing himself as a young painter who'd admired the 1960 article by Lovoos, he asked Strasser straightforward: 'is there any way I can see your paintings…?' He was warmly welcomed to do so, and travelled over 1,000 miles from Denver to Strasser's Santa Monica home; '…and there he was, a small man with a lovely Viennese accent, and he said, "Come in, come in". He was so welcoming and so friendly. He introduced his wife, Enrica Luise, and it was one of the best days I can remember in my life, not only as an artist, a fellow artist, the people were just lovely in every sense of the word. They were interesting, had a wonderful sense of humor and it was like we had known each other forever. We were chattering just like a family back and forth. Of course, I had many questions and of course he was very forthcoming with any information…'
(Transcripted from a video interview with the current owner, 2019)
This information, among many things, included the backgrounds of 'Balinese Legong Dancer', the painting he would eventually acquire from Roland Strasser that day.
Legong can be considered one of the most well-known Balinese dances. The Legong Keraton features two prepubescent girls, introduced by a third dancer, the condong. In the mid-1920s, the famous Ni Pollok (1917-1985) danced the Legong together with Ni Tjiblun. In the 1930s, their successors Ni Tjawan and Ni Sadri, accompanied by a male condong, I Rindi, became equally famous. These young dancers frequently performed in the southern part of Bali, for example in Kedaton (Denpasar) and Peliatan (Ubud). In the current painting however, we see a Legong dancer by the name of Ni Pitja (ref. Lovoos, 1960, p. 32), who possibly performed in the northern Balinese region of Kintamani, where Strasser resided. We see Pitja wearing a beautiful kain prada; a cloth, wrapped around her waist, which is typically decorated with gold leaf or gold dust in a floral pattern. The gold leaf decorations are minutely applied using fish-based glue. The little girl is also wearing a lamak, a single breast cloth. This defines her as a legong, considering a condong would wear a double breast cloth. This lamak is also in prada (gold leaf decoration). Pitja's gilt leather crown, covered in white kambojaor frangipani flowers and a red hibiscus (kembang sepatu), and what seems to be an arm bracelet (gelang kana) on the right arm complete the idea of a Legong Keraton performance during a very festive occasion. This idea is affirmed by the background, which indicates the elaborately carved facade of a temple complex, with a Bhoma (a guardian spirit) above its entrance to expel evil forces.
We can only guess which type of Legong the young dancer is performing. The pose she strikes seems to refer to the 12th-century legend, in which Princess Rangkesari is kidnapped by King Lasem who has fallen in love with her. His feelings for her are not mutual, and when Rangkesari's family hears about the abduction, they declare war. On his way to the battlefield however, Lasem is attacked by a monstrous raven (Garuda), which will prove ominous of his death. During the Legong Keraton performance, the part of Garuda is played by the -winged- condong. In 'Balinese Legong Dancer', Strasser might have captured Pitja in the role of Princess Rangkesari, striking a dramatic, protective pose that exudes modesty. Her stretched fingers, slightly lifted left foot, her twisted torso and the muscular tension in her arms and legs, as well as her partially obscured face, all evoke a captivating, introverted atmosphere. The floating lamak, hanging from her breast, gives the movement of her limbs an added dynamic, and the short, forceful brush strokes, so typical for Strasser's early 1920s expressionist style of painting, emphasize this dynamic quality.
It is no wonder the current lot was one of Roland Strasser's most cherished pieces. In 1972 the Austrian painter was 86 years old and the current owner fondly recalls their meeting as one of the most memorable days of his life as a young artist. Now, 48 years after it was acquired directly from Strasser, this market-fresh vision of an iconic Balinese dance is offered at auction. It essentially is both a portrait and -to some extent- a self-portrait, in which an extroverted and introverted character merge.
Literature references
– Covarrubias, M., Island of Bali, Cassell and Company Limited, London/Toronto/Melbourne/Sydney, 1937, 224-228.
– Dhaimeler, D.H., Fabulous Blanco: Antonio Blanco, His Life, His Works, His Dreams, Blanco Fine Arts Foundation, Bali, 1991, 17/26.
– Hamel, D., Roland Strasser, Duta Fine Arts Foundation, Jakarta, 1991, 8.
– Lovoos, J., Roland Strasser, Painter of the Far East, in: American Artist, November 1960, 30-35 / 68-70.
– Orsini, G., Soul Brothers, Twin Artists: Strasser and Dooijewaard in Bali and beyond, in: Transcultural Expressions Tahiti-Bali, Museum Pasifika, Bali, 2017, 192-205.
– Spies, W., Zoete, B. de, Dance & Drama in Bali, Faber and Faber Limited, London, 1938, 218-232.
– Strasser, R., The Mongolian Horde, Jonathan Cape & Harrison Smith, London/Toronto/New York, 1930, 15-16.
– Stuart-Fox, D., Gilded Textiles, in: Brinkgreve, F., Stuart-Fox, D. [eds.], Living with Indonesian Art: The Frits Liefkes Collection, KIT Publishers, 2013, 212-214.
– Tentoonstelling van schilderijen van Willem Dooyewaard en Roland Strasser, Bataviasche Kunstkring, Batavia, September 17-25, 1932 (exhibition leaflet).
– Catalogue for the Inaugural Exhibition by the Merioola Group of Sydney, Myer Mural Hall, Melbourne, September 9-23, 1947 (exhibition leaflet).
– Transcripts from two video interviews with the current owner, 2019.
Gianni Orsini MSc., October 2020
More information about our auctions of Indonesian paintings:
René de Visser
Zeeuws Veilinghuis – Zeeland Auctioneers
rene@zeeuwsveilinghuis.nl
www.zeeuwsveilinghuis.nl