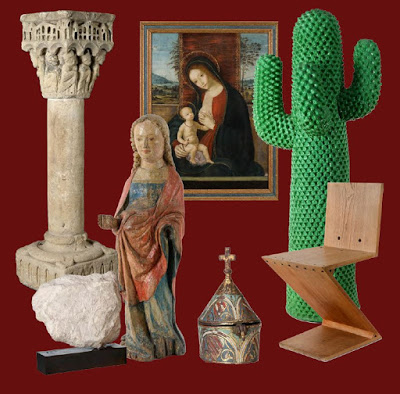 A few pieces of the Gabriëlse Collection.
My father was born on the 15th of August 1928 in Middelburg (Langeviele 23), weighing only 1.6 kilograms. From the first beginning his life was a succession of luck: incubators did not exist yet, but the summer of 1928 was the warmest of the 20th century. They put him to sleep in straw. The warmth saved his life, and a life of luck would follow.
Being the fourth generation of the Gabriëlse family that had come from Westkapelle to Middelburg to sell furniture, Adriaan's professional future was sealed. The only son had to succeed his great-grandfather, grandfather, and father; this was a duty in those days, not a choice.
His education showed a thread of art and culture already. One of his primary school teachers later appeared to be one of the greatest experts on the 17th century art of painting: Laurens J. Bol. His history teacher in secondary school was the later famous professor Pieter Jan Bouman, founding father of Dutch historical sociology. All of them excellent storytellers, my father later said gratefully. The high point was his admission to the Applied Arts School in Amsterdam, where he took lessons from the great Gerrit Rietveld, the name giver of the current Rietveld Academy, who made an indelible impression upon his career. The free thinking in an otherwise strictly theoretical discipline has become characteristic of his artistic life.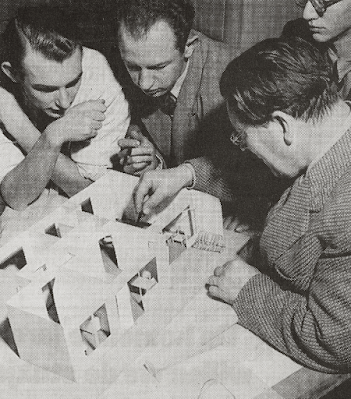 Adriaan Gabriëlse (center) with Gerrit Rietveld (right)
In the early 1950's my father made his entrance into his parents' respectable and traditional furniture business on Langeviele. His new opinions, acquired in Amsterdam, must have been shocking. The shop was being transformed into a modern one, prominently featuring designs of later celebrity's as Le Corbusier, Breuer, and of course Rietveld himself. Woninginrichting Gabriëlse flourished, and not only expanded its shop in Middelburg, but with unbridled energy opened stores in Goes, Terneuzen, and Vlissingen as well. Honesty compels us to admit that the turnover was not achieved by selling the products of Rietveld and his associates. Quite a lot of these nowadays famous designs ended up in Adriaan Gabriëlse's private collection, where they remained to this very day.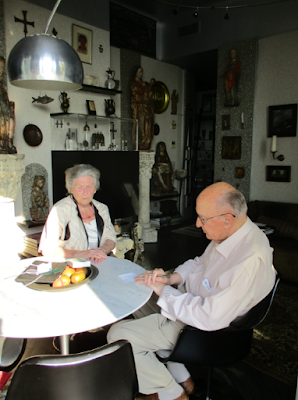 Meanwhile married and a happy father of two kids, Ad Gabriëlse built his first house at Langevielesingel 18A, designed by architect Piet Götzen. The building still stands out among the neighbouring houses because of its deviant architectural style. In this modern interior his collector's career started. His criterion for new art acquisitions was unambiguous: it had to provide him (and his wife) aesthetic satisfaction. In the course of fifty years an eclectic collection was formed, representing my parents' taste. The annual antiques fair in Delft was one of their favourite sources of new pieces during those first years. As a four- or five year old little boy, my father took me along and introduced me into the magical world of art. Not many four year olds were able to tell what a linenfold was; I could, thanks to my father, who also provided theoretical education by reading to me from the illustrated art history book De rode draad each Sunday, and going through each new edition of Openbaar Kunstbezit with me on his lap. The second place my parents often bought art those early years was their favourite city, Paris. They were not ashamed to rummage around the famous 'Marché aux Paris' looking for attractive bargains. Some remnants of this time are still to be found in their collection.
Ad Gabriëlse's business talent did not escape notice. He was asked to assume the position of chairman of a nationwide upper-segment chain of furniture shops. As its headquarters was situated in Amsterdam, my parents returned in 1970 to the place they had met each other in 1952. These 'Amsterdam years' again impacted them strongly. Actively belonging to the international cultural circles detached them from provincialism. After five highly intensive and successful years my father saw his chance to sell his share in the business. Though by then he possessed one of the most beautiful houses in Middelburg, Wagenaarstraat 30, he preferred not to return to Zeeland, but to leave for abroad. Eventually my parents took up their residence in Monaco in 1977. No longer hindered by lack of time he gave his passion for collecting full rein, with a particular focus. He still purchased only what he loved, but from a more restricted period: the 'Haut Époque' became his main focus. This interest in the Middle Ages was strengthened by the many art tours that brought him and his wife to places all over the world where either art galleries or the landscape showed artistic expressions from this time span. In course of time an eclectic international collection was formed, containing pieces from ancient Egypt to modern art from the end of the 20thcentury, with special focus on the Middle Ages. The characteristic thread always remained the same: personal aesthetic satisfaction.
Shortly after my parents had returned to the Netherlands, having lived in Monaco for forty-two years, my father was diagnosed with acute leukaemia. Within a month he died, on 24 May 2020, satisfied amidst his art collection in his own favourite house at Wagenaarstraat 30, a man of 91 years old. His lasts words were: 'Ils sont passés ces jours de fêtes!' He considered himself a lucky one.
Leunis Wob Gabriëlse
Middelburg, 27 June 2020
Via this link you can find the catalogue (starting at lot 1001):