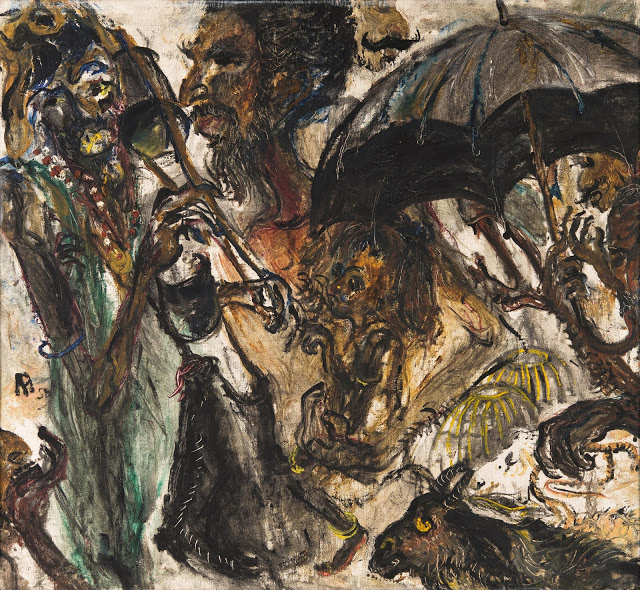 Our next Indonesian Art Auction contains this painting by Affandi (1907-1990), one of the 'grand maestro's' of modern Indonesian painting. The painting is dated '50 and probably made during his stay in India. Affandi about his paintings:
"My subjects are expressive rather than beautiful. I paint suffering – an old woman, a beggar, a black mountain … My great wish is that people learn a little from my work."
In this painting we see a baby or small child carried by her father amidst of the chaos of a busy market. People are walking from left to right and vice versa, goats between them, someone with an umbrella (to protect the child from the sun?), a street musician on the left, etc. All in all a very chaotic scene, where you have to be alert when you are in a hurry as the father seems to be. But the child doesn't care and feels safe in the arms of her father.
The use of colours and the painting technique is quite different from many of his other paintings. Absolutely an unique one in his oeuvre!
More information about our auctions of Indonesian paintings:
René de Visser
Zeeuws Veilinghuis – Zeeland Auctioneers
rene@zeeuwsveilinghuis.nl
www.zeeuwsveilinghuis.nl