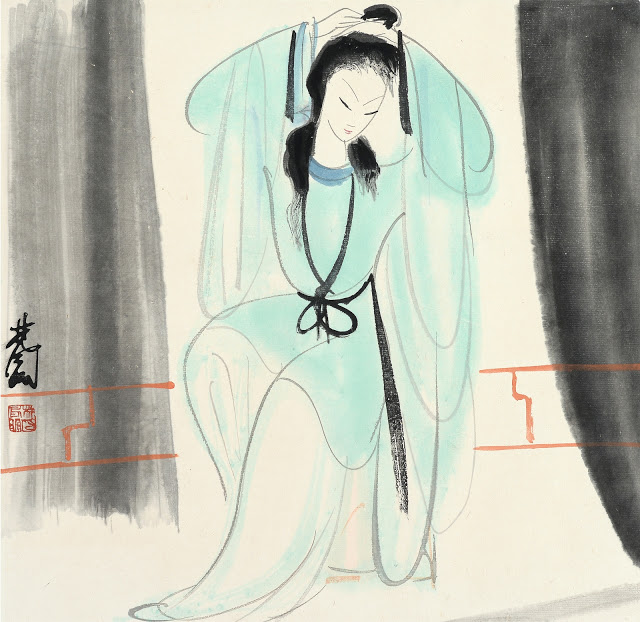 Lin Fengmian, 33 x 33.5 cm – auction June 2021
"The greatest distinguishing feature of Lin Fengmian's life is that he created a brand new and unprecedented art form with characteristics of both the West and East. He laid the foundation for modern Chinese painting."
Xiao Feng
Former President of the China Academy of Art
Source: the documentary 'Century Masters', part 7, Lin Fengmian.
Lin Fengmian (born 1900) was a modern Chinese visual artist and pioneering teacher with a strong social conscience. He presented a synthesis of Chinese and Western art.
In the early 1920s he studied in Paris and became influenced by German (Nolde) and French expressionism (Matisse). He saw similarities between the Western and the Eastern and, after returning home to China, he optimistically established the Art Movement Society with artist friends to "unite the new strength of the art world".
In 1926, Lin started teaching and later he became director of the newly established National Academy of Art in Hangzhou and one of The Four Great Academy Presidents, a group of pioneering teachers who wanted to transform Chinese art education into the Republican era.
In the Second Sino-Japanese War in 1937, Lin's studio was looted by soldiers and many of his paintings were destroyed. Later, during the Cultural Revolution, Lin chose to destroy all of his paintings himself to prevent them from being used against him. It didn't help much, his fascination with opera and other "intellectual" pursuits was used against him and he was imprisoned for four and a half years.
After the death of Mao Zedong, artists were again able to exercise some creative freedom and the protagonists of the early avant-garde were slowly rehabilitated. In 1977 Lin left China and moved to Hong Kong, where he spent his years making up for lost time. Among other things, he recreated work that was lost during the Cultural Revolution. He wanted to paint the images that were hidden in his mind. In 1989, aged nearly 90, Lin had his first retrospective exhibition in Taipei, Taiwan.
Lin Fengmian shocked traditional artists by choosing to paint on a square format rather than a long roll. His use of color, brushwork and perspective is believed to have been inspired by his period of study in Europe, although Lin himself wrote that his greatest inspiration came from the Song Dynasty figures on ceramics and cave paintings.
Auction: Asian Art, 8th of June 2021.
More information:
René de Visser
Zeeuws Veilinghuis – Zeeland Auctioneers
rene@zeeuwsveilinghuis.nl
www.zeeuwsveilinghuis.nl