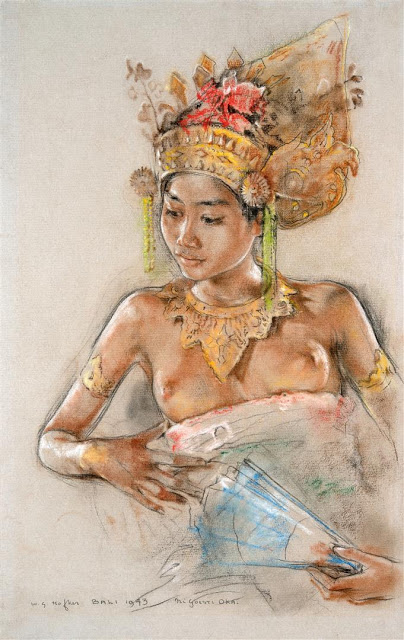 Willem Gerard Hofker (1902-1981)
'Ni Goesti Oka'
Willem Gerard Hofker (1902-1981)
'Ni Goesti Oka', signed and dated Bali 1943, pencil and conté crayon on paper.
48 x 30 cm. Verso: signed again and 'Amsterdam-Bali'.
Provenance: sold by the artist at the Arti et Amicitiae exhibition in Amsterdam
between 29 June and 21 July 1946.
Literature:
– Carpenter, B.; Willem Hofker; Painter of Bali, Pictures Publishers,
1993, p. 202 as: I-4, Ni Goesti Oke, as Legong, drawing.
– Hofker S. and Orsini, G.; Willem Gerard Hofker (1902-1981),
Uitgeverij de Kunst, Zwolle, 2013, p. 204, no. 286 (illustrated).
€ 35.000 – 50.000
Willem Gerard Hofker, since 1993 also known as 'The Painter of Bali', after a book was published in collaboration with Hofker's spouse, Maria Hofker-Rueter. It showed a selection of the artist's Balinese work for the first time, but it had to be valued as an incomplete oeuvre. The author, B. Carpenter, rightly stated that in-depth research for this 'Balinese period' was still needed. Since then the undersigned has conducted intensive research into the magnitude and quality of Hofker's art and in particular into the work from his 'Balinese period'. This resulted in the successful publication of Willem Gerard Hofker (1902-1981) in 2013 (see lot 44), which contains more than four hundred images, including two hundred and thirty of his Balinese work, and also an image oeuvre catalogue of the Balinese paintings.
When Willem and Maria Hofker returned to the Netherlands in 1946, after World War II, they had to rebuild their lives. The record of the first sale exhibition, organized in July 1946 by the association of visual artists 'Arti et Amicitiae' in Amsterdam, of which Hofker had been a member since 1930, showed that a majority of his Balinese paintings and drawings were then sold and passed on to Dutch collections. As did this presented magnificent portrait of the young Ni Gusti Ayu Oka, daughter of the single most important Balinese artist of the 20th century: I Gusti Nyoman Lempad. It was exactly two years after Hofker arrived in Bali in the late 1930's that they visited this gifted artist.
'We are going to see the baleh (roof topped terrace) in the yard of the Tjokorda and then at Goesti Lempad, draftsman and sculptor, to see a beautiful richly gilded baleh, and drawings on heavy parchment', Maria Hofker noted in a journal in 1940.
Lempad was head of a crew of sculptors who carved stone sculptures designed by a friend of Hofker and fellow member of the association 'Arti et Amicitiae', the Dutch sculptor Louis van der Noordaa. Both artists and spouses regularly visited each other and admired one other's work. The Hofker's were regularly accompanied by a close friend and frequent house guest, the scholar Christiaan Hooykaas, who commissioned drawings by Lempad.
It is not known whether Hofker had already used Ni Gusti Oka as a model before. But it is certain that she is one of the very last to pose for him, as can be seen in this presented drawing by Hofker, dated 1943. Just before Christmas 1943 Willem and Maria Hofker were forced to leave Bali due to World War II, together with the last few foreign artists. The Japanese who had occupied Bali transported them to internment camps on Celebes, currently known as Sulawesi, never to return again.
In this technically masterful drawing Hofker portrayed the elegantly positioned Ni Gusti Oka with the Gelungan headdress, collar, and fane of the Legong dance. Her gaze into infinity, as if in trance, like after the dance performance. The tightly bound sabuk chest-costume is unwrapped, showing her shining skin, as she rests. A brilliant representation of the exquisite beauty and refinement of this Balinese woman, and an absolute gem within the illustrious oeuvre of Hofker.
Seline Hofker, October 2020
More information about our auctions of Indonesian paintings:
René de Visser
Zeeuws Veilinghuis – Zeeland Auctioneers
rene@zeeuwsveilinghuis.nl
www.zeeuwsveilinghuis.nl