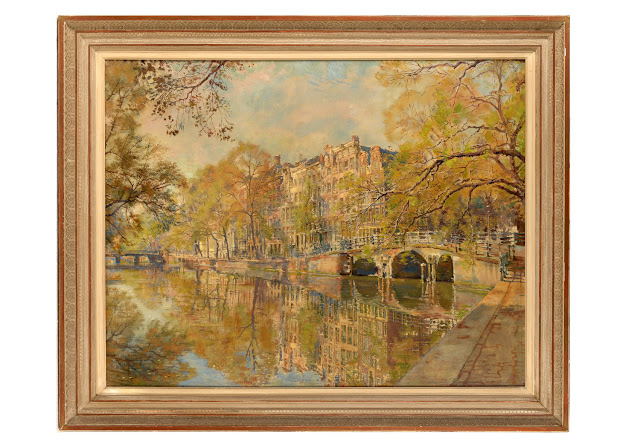 WILLEM GERARD HOFKER (1902-1981) 'Corner of the Heerengracht and Leidschegracht, Amsterdam',
signed and dated 1956 l.r., canvas. 70 x 90 cm. Verso: signed, dated and titled.
Provenance: sold by the art dealer Willem Sloot, Amsterdam, on behave of the artist in 1957; farewell gift to an executive of the heavy industry company Jonker – Du Croo, Amsterdam in the 1970's.
It was 1952 when Willem Gerard Hofker completed three paintings showing the Keizersgracht in Amsterdam for a client in Stuttgart. Encouraged by the satisfying result, he decided to work in the city more often in-between commissions. This resulted in a series of large paintings, created in several years and seasons. He mentioned in a letter: 'I am so busy this summer, or rather; I make myself very busy. I am working in our beautiful city, encouraged by the result of those cityscapes, which I made in the wintertime. (…) Now this summer I started the sixth.' And further: 'The corner of the "Herengracht bij de Leidsegracht", an enormously complicated work, especially the row of houses, each with its own character.' 
Clearly Hofker succeeded excellently in capturing the monumental houses on the Herengracht in the presented painting titled 'Heerengracht, hoek Leidschegracht, Amsterdam 1956'. Take for example the two mirrored houses with neck facades that start out on the right corner and are known as 'Two sisters', which date from around 1680. Together with the other houses along the canal that Hofker visualized, flanked by the two bridges, these represent one of the oldest parts of the Herengracht. The triple arch bridge named 'Vier Heemskinderenbrug' dates from 1772. Its long balustrade invites you to look more closely and detect, in just a few paint strokes, the ornate wrought iron Ritter lamppost; an ornament in itself, displayed in the Amsterdam street scene. It shows how impassioned Hofker was in emphasizing importance. He also omitted street signs and cars, as these could only distract attention from beauty. The bright sunlight shining through the street illuminates the mostly dark canal, so that the unlikely sharp but masterly reflection of the cityscape suggests a windless summer afternoon. Even the freshness of the young green leaves on the still visible branches contributes to a harmonious interaction between nature and architecture. Hofker managed to visualize tranquility in a busy part of the so-called 'Grachtengordel', a part of Amsterdam that has been on the UNESCO World Heritage List since 2010.
Seline Hofker, April 2018
Auction: Indonesian art, 5th of June 2018.
More information about our Indonesian auctions (Indische veilingen):
René de Visser
Zeeuws Veilinghuis
Herengracht 74
4331 PX  Middelburg
0031 (0)118-650680