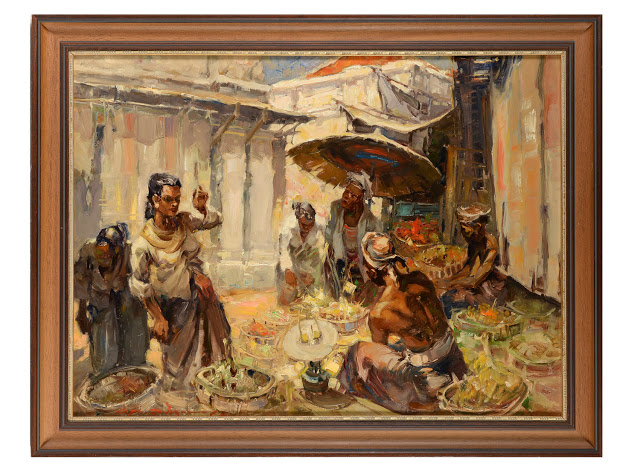 GERARD PIETER ADOLFS (1898-1968) Scenery in Songoyudan, Surabaya,
Rich Display In a Passer Corner signed l.l., canvas 60 x 80 cm.
Executed circa 1943. Titled, and numbered No. C on the stretcher.
Literature: Borntraeger-Stoll, E., & Orsini, G., Gerard Pieter Adolfs- The Painter of Java and Bali, 1898-1968, Wijk en Aalburg 2008, illustrated full-page on p. 351.
Provenance:
– Private collection, the Netherlands;
– Private collection, granddaughter of the artist.
"When he paints he is like a flying pennant, and he employs his brush like a playful, dancing child. He observes, and he celebrates."
(Tim Visser, De Koerier, June 29, 1936)
Gerard Pieter Adolfs was born on January 2, 1898 in Semarang, Central Java. He studied architecture in Amsterdam. After graduating, he was drawn back to Java, were he designed houses in Yogyakarta, Solo and Surabaya. During the 1920s he switched, dedicating the rest of his life to painting. From the start of his career as an artist, Adolfs was successful, allowing him to travel for a few months, each year. He exhibited all over the world. The main subjects of his work were scenes of Java, Bali, Japan and of North Africa: portraits, market sceneries, cock-fights, landscapes and townscapes. In 1940 – shortly before the occupation of Holland – Adolfs came back to Europe and settled in Amsterdam. He exhibited in many well-known European galleries. In 1967 he retired to a small Dutch village. On 1 February 1968, Adolfs died in the Dutch city of 's-Hertogenbosch.
Until 1940, every painting that Adolfs made in the Dutch East Indies was sketched or painted on-site, and then perfected in his Surabaya studio, giving these paintings a realistic, unromanticized feel. From 1940 onwards, Adolfs painted his beloved country and its inhabitants from memory, in his Amsterdam studio.
Executed circa 1943, 'Scenery in Songoyudan, Surabaya' is a typical representation of one of Adolfs' best-kept secrets, his Luminist period (1940-1947). Although Adolfs was very productive in the war years, unfortunately most of the works from that period would subsequently be destroyed in bombing-raids. Few works from his Luminist period have gained any wide renown, probably for this reason.
The works from this period that did survive possess a strong dynamic quality, and a subtle spark of tropical light. They distinguish themselves by their exceptional wealth and intricacy of detail. Not only had Adolfs's interest in the human face grown, with increasingly portrait-like renderings as a result, but all the major and minor foreground and background elements are thoroughly observed and comprehensively (if impressionistically) captured. Quintessential in the overall effect is the brushwork: Adolfs used forceful, short, mostly rectangular strokes, each subtly different in shade from the next, making faces gain a deep glow, buildings a rich texture, and backgrounds a fervid flamboyance. Typically, all the spices and groceries in 'Scenery in Songoyudan, Surabaya' are depicted using small, brightly coloured brush strokes, creating a deeper sense of perspective and luminism.
Emplying repoussoir, a signature effect by Adolfs, is done in a subtle way in the present lot; only a parasol and a warong on the right, and the two women on the left, serve as a way of achieving marked effects of depth, notably not in the direct foreground, but as a middle layer of perspective. Additionally, the woman in the middle of the painting, bending to take her selection of fruit and vergetables, is painted with less contrast and less saturation than the two squatting men in the foreground, which creates a sense of atmospheric perspective. Adolfs actually based the poses of these two men on pictures from his extensive collection of photographs. In Amsterdam, he was even known to have himself photographed by his girlfriend, only wearing underwear, so he was able to study and portray skin, muscles and bone structure in his paintings.
The obvious bright colours that Adolfs uses actually goes back to his Vibrant (Impressionist) period, which started around 1936. It is assumed to stem from several journeys, amongst others to Japan. There, he was introduced to lavishly bright colours in the local flora and fauna, and in the traditional Japanese clothing. From that moment on, it became a part of his painting style:
"In one piece, he brilliantly captures the tranquillity and expanse of the Orient, and the silent introspection of its people. Yet in another, he surprises us again by being as keen an observer of the slender, lithe suppleness, the vibrating inner life of the people of the Orient […] These works derive greatness from their use of colour. That is: they are all, pre-eminently, the visions of a painter. […] If comparisons are called for, I compare Adolfs to that other highly colourful and atmospheric painter: Isaac Israels."(NN, Haagsche Courant, July 13, 1940)
Indeed, specifically in the current lot, this comparison is not strange. Isaac Israels was well-known for his nonchalant way of painting. Some even referred his way of using the brush as 'slashing', with thick, decisive brush strokes. Typically, when observing these six people in 'Scenery in Songoyudan, Surabaya', one can see they are portrayed in a quick, suggestive style, similar to Israels. It resulted in a most energetic painting of his beloved native country, with which he had such a deep connection.
Gianni Orsini, May 2018



More information about our Indonesian auctions (Indische veilingen):
René de Visser
Zeeuws Veilinghuis
Herengracht 74
4331 PX  Middelburg
0031 (0)118-650680