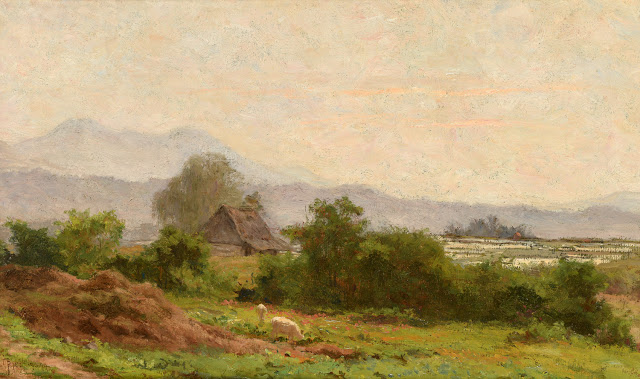 'Bij Sindanglaja, Java', signed l.l, canvasboard, 35 x 58 cm. Executed ca. 1890, titled verso.
Wilhelm 'Willem' Christiaan Constant Bleckmann was born on February 14, 1853 in Batavia, today's Jakarta. His mother, born in Java and with Indo-European ancestry, was a sister of the renowned Indologist and linguist Herman Neubronner van der Tuuk (1824-1894).
After a formal education in Holland, Bleckmann returned to his native island of Java in 1872, where he worked as a civil servant. An essential turning point in Bleckmann's life took place in 1877, when he left for the Netherlands on sick leave. There, he was hugely impressed by the paintings of the The Hague School artists, which, following in the footsteps of the Barbizon School, had now risen to great heights, like the Maris brothers and J.H. Weissenbruch (1824-1903). He decided to attend art classes at the Amsterdam Academy of Fine Arts. After returning to Batavia, he made a dramatic career change, being appointed drawing teacher at the Batavia Willem III gymnasium in 1882. In his spare time, he would depict the Javanese landscape, in and around Batavia, in watercolours and oil paintings. From 1882 until 1898, Bleckmann underwent a huge artistic development, evolving from a Romantic into an Impressionist painter. He did so, after famous painters like Raden Saleh, Salm en Beynon had passed away, and long before the next generation of painters would even think of travelling to the Indies. Bleckmann may have met Mari ten Kate (1831-1910), Maurits van den Kerkhoff (1830-1908), and W.O.J. Nieuwenkamp (1874-1950), but looking at the oeuvres of these artists, there don't appear to be any (mutual) influences. In 1898, Bleckmann retired at 45, repatriated, and settled in The Hague with his wife and daughter, to become a much appreciated painter in the Dutch art scene.
The present lot is a rare and fine example of Bleckmann's late 19th century Indonesian oeuvre, made during the rise of the European impressionists, yet painted solitary, at the other end of the globe. The misty Javanese landscape, east of Bogor, near Sindanglaya, exudes the humidity of the tropics. The subtle use of backlight, making the sawah scintillate, and the grazing goats glow, fully justify Willem Bleckmann to be called the first Dutch East Indies Impressionist painter.
Gianni Orsini, May 2018


Auction: 5th of June 2018.


More information about our Indonesian auctions (Indische veilingen):
René de Visser
Zeeuws Veilinghuis
Herengracht 74
4331 PX  Middelburg
0031 (0)118-650680