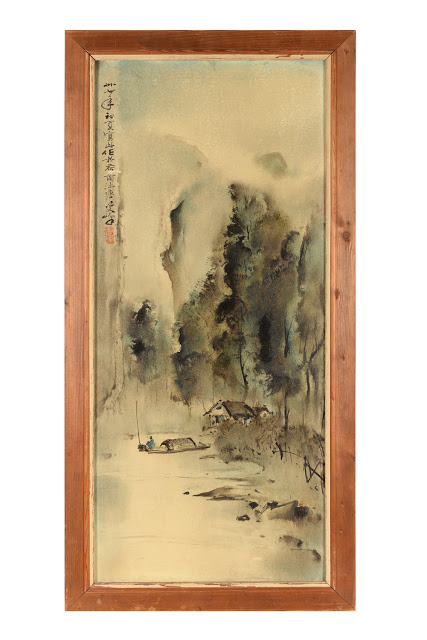 LEE MAN FONG (1913-1988) 'After the rain', signed u.l., board, 90 x 40 cm.
''How much Lee Man Fong is still attached to ancient Chinese traditions, despite modern influences, appears from his 'After the rain'.
This is an exceptionally subdued and harmoniously composed painting, which we could call 'a symphonic poem in brown and grey' and in which the resonance of the rustling rain still seems to be recognized." (H. de Boer, June 1949).
Provenance:
Private collection, The Netherlands.
Literature:
– Siont Teja, 'Lee Man Fong – Oil Paintings Volume II", Art Retreat, Singapore, 2005, p. 167 (third painting from the right side).
– H. de Boer, 'Lee Man Fung, een Chinees schilder exposeert in ons land', Kunst en kunstleven magazine, June 1949.
Exhibited:
– Exhibition rooms Kunst van onze Tijd, The Hague, 1949, – Arti et Amicitia, Amsterdam, 1949.
Auction: Indonesian art, 5th of June 2018.


More information about our Indonesian auctions (Indische veilingen):
René de Visser
Zeeuws Veilinghuis
Herengracht 74
4331 PX  Middelburg
0031 (0)118-650680