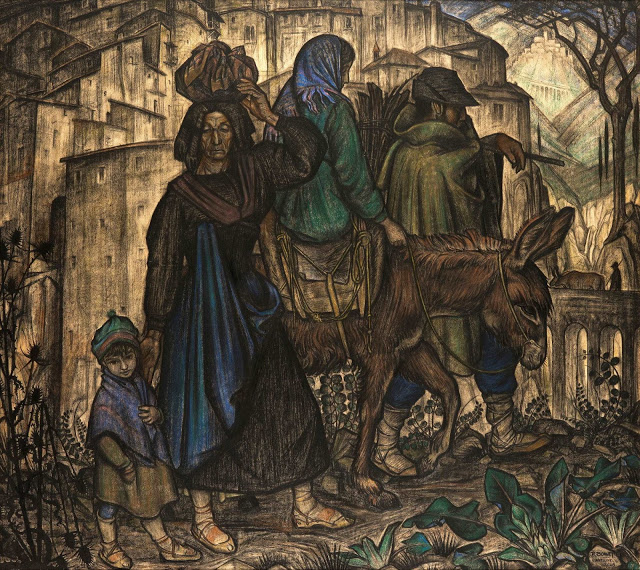 RUDOLF BONNET (1895-1978)
'Ritorno dalla Campagna' (Returning from the Countryside)
signed and dated Anticoli 3/23 lower right,
charcoal, pastels and gouache on paper, 129 x 143 cm.
Literature:
– Roever-Bonnet, dr. H. de, Rudolf Bonnet, een Zondagskind,
Pictures Publishers, Wijk en Aalburg, The Netherlands, 1993, illustrated on p. 91, plate 45.
– Boer, H. de, R. Bonnet, in: Op De Hoogte magazine, vol. 21, 1924, no. 5, p. 82-86, illustrated, p. 83;
– Hallema, A., Rudolf Bonnet, de Hollandsche schilder van het Italiaansche landleven,
in: Ons Eigen Tijdschrift magazine, juli 1924, p. 256-261, illustrated, p. 258.
– Hallema, A., Vaderlandsche Kunst, Rudolf Bonnet,
in: De Hollandsche Revue magazine, vol. 31, 1926, no. 1, p. 10-23, described, p. 16.
Exhibited:
Koninklijke Kunstzaal Kleykamp, The Hague (NL), March 1924.
Provenance:
– Private collection of Albert Hendrik Smook (1907-1983),
a surgeon who lived in Medan, Sumatra, from 1937 until 1946;
– Thence, by descent.
'There is a sense of worship around these silent, pensive figures in the evening on the high mountain path, which has a biblical beauty. Over yonder bridge, a shepherd leads a bovine to the village, which seems a powerful fortress, insuring the safety of its inhabitants. Bonnet perceives the existence of humanity as a touching mystery of divine seriousness. In his Ritorno, the aged face of the solicitous woman carrying a heavy load, has become wrinkled with grief. There is a suffering in her woeful face, sanctified by resignation.'
(Anne Hallema, on Ritorno dalla Campagna, in: De Hollandsche Revue magazine, 1926, no. 1, p. 16)
From 1920 until 1928, Rudolf Bonnet lived in the small Italian town of Anticoli Corrado, less than 50 km east of Rome. The inhabitants of this small village in the Sabine Hills were hard-working, poor peasants. Bonnet adjusted to their elementary lifestyle, and was allowed to portray their harsh lives, their rituals, their melancholia. It would prove to be a formative prelude to a life he would spend in Bali, where Bonnet would become an important figure in the development of Balinese arts and crafts, but at the same time he would portray the locals and their culture, just like he had done in Italy. Bonnet once said that his Anticoli Corrado oeuvre could be interpreted '…as a unit, as a single portrayal of a race. It is a story. The story of a peasant-class, preserved in its classical state and part of a people whose background spans the centuries. Still, one of these days that race will have vanished. So, considered from this viewpoint these hard faces are not portraits. They are the representatives of a race.'
Bonnet was inspired, not only by the charm and authenticity of the Anticolian people, but also by preceding artists. Thematically, there is a clear connotation to the work of Jean-François Millet (1814-1875), who also influenced Vincent van Gogh and Claude Monet, and was himself, like Bonnet, a great admirer of Michelangelo. Millet became well-known for his depiction of peasant people at work, with an occasional biblical reference. In Bonnet's Ritorno dalla Campagna, the theme of peasants at work struggling to make a living is a direct echo of Millet's oeuvre, and in this case it holds a strong reference to the biblical theme of Joseph and Mary on their donkey, fleeing to Egypt. Regarding viewpoint, posture and clothing, the man on the right carrying chopped wood clearly refers to Millet's Shepherd Tending his Flock, executed in the early 1860s. The way the flock of sheep surrounds Millet's peasant man even tends to be similar to the compelling way the houses of Anticoli enclose the Italian family, as if seen through a magnifying glass. Another inspiration, closer to Bonnet, is obviously Jan Toorop (1858-1928). The dramatic visualisation, drawing thick outlines, stylized form, using religious connotations, and taking peasantry as a (metaphoric) theme, all resemble Toorops iconic work. The way the tree and the mountain tops, in the upper right corner, are abstracted and assimilated into one triangular grid, is also typical of the early 1920s Art-Deco movement of which Toorop and consequently Bonnet were exponents. Apart from these art-deco elements, Bonnet has carefully composed the people from Anticoli in their Sabine Hills habitat. The viewer's eye is led from the main characters to the road they are following, and back again across the bridge toward the village, that lights up like an ominous backdrop. The repetition of a man herding an animal, and the endless occlusion of foliage, people, village and mountains creates an intense perspective.
Following Contadini d'Anticoli (1927), sold for € 38,000 hp in December 2015, and Sposi d'Anticoli (1922), sold for € 48,000 hp in December 2016, this is the third December in a row that Zeeland Auctioneers is honoured to auction an essential piece from Rudolf Bonnet's Anticoli period. In 1924, both Ritorno dalla Campagna and Sposi d'Anticoli were shown at the Kunstzaal Kleykamp exhibition in The Hague. Bonnet was only 29, and at that point still unknown, but the exhibition, visited by Berlage and Toorop, yielded promising reviews, and Bonnet managed to sell most of the works on
display. It had become a launching exhibition for Bonnet. He himself literally returned from the Italian countryside to show his work; Bonnet's own Ritorno dalla Campagna had proven a great success.
Nobody would suspect, that twenty years after this exhibition at Kleykamp, the 'Ritorno' would have traveled to the other end of the world, and would magically survive the tropical climate, and World War II. The diaries and memoires of the former owner, mr. Albert Smook (1907-1983), clearly show that the title 'Ritorno' became multi-interpretable: 'Our residence in Medan included a large, open porch. Any thief could just walk in… but this never happened, and there was never anything missing. On this porch, the 'Ritorno' had an exceptional place, behind glass. Every time I was sitting there, I would always look at it, majestically hanging above a couch. This way, one grows attached, and when planes were circling above Medan, there was a risk of being bombed, so the thought occurred to take 'Ritorno' to a safer place, the 'onderneming' (enterprise) of my colleague Janssen, who lived at Sungei Sengkol. The 'Ritorno' was given a brilliant spot. Then, the Japanese came, and after a while, the Sungei Sengkol residence became, what you might call, a 'relax house'. Although it was not called 'Romantica', there were quite a number of pretty girls, and the guests (officers) had a great time. I envisioned bottles smashing the 'Ritorno''s glass. A Swiss guy was living at this 'onderneming'. He was the gutsy type, so I asked him if he could save the 'Ritorno'. One night, he broke into the house and took the 'Ritorno' out of the frame. He put the drawing in a large tube, and immured it. Later on, I was imprisoned in a camp in Sungei Sengkol. I heard the whole story after the war. The drawing, in the tube, was sent to the Netherlands, and carpenter Wierda, a professional with a great knowledge of antiques, made a new frame.'
(Excerpts from the memoires of the former owner, mr. Albert Smook (1907-1983), ca. 1942-1946)
Gianni Orsini, November 2017



More information about our Indonesian auctions (Indische veilingen):
René de Visser
Zeeuws Veilinghuis
Herengracht 74
4331 PX  Middelburg
0031 (0)118-650680