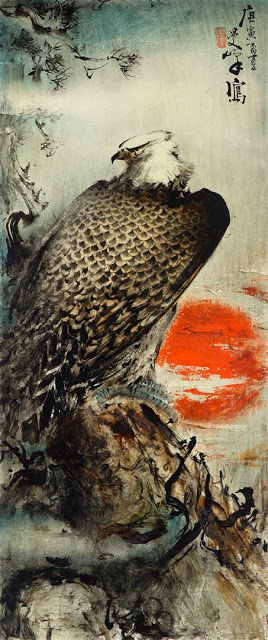 'The aesthetics in Lee's paintings can be seen and felt through his manipulation of the brush,
his quality of paint and his orchestration of colour. […] All the units in this illustration have anequilibrium as well as changing proportions set in motion not by the subject but by the rhythmof the brush, the colours and the artist's emotions. In this way his spiritual home is interpretedin the art, and subject matter is but a vehicle. This transcendental conception of subject matterleaves the artist free in orchestration. It enables him to compose the higher elements of visualart within the laws of harmony and symmetry.'(Alexander Dickman, The Studio, April 1956)
Born in Guangzhou, China, raised in Singapore and going through his formative years in Jakarta when it was under Dutch, Japanese, and ultimately Indonesian rule, and living in the Netherlands in the years following World War II, Lee Man Fong was inspired by many cultures and teachings. In the course of his career, Man Fong reinvented his Chinese heritage, switching from the European impressionist way of painting into a more calligraphic way of handling his brushes, painting onto long-stretched boards.Lee Man Fong was known to keep roosters, chicken, doves and parrots, as well as dogs and a huge pond of goldfish in his garden. He would frequently paint these animals from life, portraying them at ease, wandering around in a more or less 'perfect world'. This style of painting has become Man Fong's trademark.

LEE MAN FONG (1913-1988)'Awakening eagle',signed and dated 'early summer 1950'u.r., board, 95 x 40 cm.Literature:Lee Man-Fung, Back in theNetherlands after seventy years, 2018,illustrated, p. 13 and on the backcover.Exhibited:- Lee Man-Fung, exhibition roomsLeffelaar, Haarlem, July 1950, no. 32;- Lee Man-Fung, Back in theNetherlands after seventy years,ANNA@KV2, The Hague, October19-27, 2018, no. 9.Provenance:Acquired directly from the artist atthe 1950 exhibition in Haarlem, theNetherlands, by the father of thecurrent owner, who lives in Icelandnow.€ 100.000 – 150.000
In June 2017, such a long-stretched oil on board by Man Fong, depicting The Eagle (1948), was sold in these rooms for € 450.000 (hammer price). At that time, it was believed to be the only painting the artist ever made of an eagle. Through an amazing discovery in northern Iceland, another early Man Fong painting, Awakening Eagle (1950) is now at auction.
In ancient animist beliefs, the Eagle is considered one of the Primordial Animals, together with, amongst others Naga, the mythical snake, inspired by which undulated keris came to be, and Bedawang Nala, the cosmic turtle that carries the world. In the Hindu and Buddhist teachings of India and Indonesia, Garuda is a mythical bird appearing as the vahana (vehicle) of Vishnu. Indonesia's national symbol is Garuda Pancasila, and the national airline Garuda Indonesia.
In this painting, executed in Amsterdam, Man Fong combines the symbolism from his Chinese and Indonesian roots, without judging or discriminating. The deeply metaphorical backgrounds of these ancient cultures blend into a single work of art:'Though he has been exposed to strong Western influences, the Chinese predominate – and themixture of these widely divergent traditions did not lead to a hybrid, inwardly inconsistentwhole, but to an artistically sound style.'(Hans Rookmaker, Trouw, May 24, 1950)
Taking a closer look, we see pride and perseverance of the bird of prey expressed to a maximum: seen from the back, and looking over his shoulder, with a determined look in his eyes, the eagle becomes a divine character. The structure of his feathers resembles a shining armour, turning the eagle into an invincible knight. The low viewpoint from which the bird is painted and the glowing sun about to rise, emphasize its heroic status.



LEE MAN FONG (1913-1988)'Pinetree and stones',signed u.l., board. 92 x 33 cm.Literature:Lee Man-Fung, Back in theNetherlands after seventy years, 2018,illustrated, p. 12.Exhibited:- Lee Man-Fung, exhibition roomsLeffelaar, Haarlem, July 1950, no. 31;- Lee Man-Fung, Back in theNetherlands after seventy years,ANNA@KV2, The Hague, October19-27, 2018, no. 8.Provenance:Acquired directly from the artist atthe 1950 exhibition in Haarlem, theNetherlands, by the father of thecurrent owner, who lives in Icelandnow.
The second painting by Lee Man Fong, Pine Tree and Stones, is painted in a minimalistic way. The artist created a painting which suggests greath depth and the serene atmosphere of a tranquil morning. The painting is very similar in atmosphere with Willows and Fishermen that was sold in December 2017 for € 270.000 (hammer price) in these rooms.'For Chinese people, the pine tree represents longevity, virtue, and solitude. Along with the plum and the bamboo it is considered one of the "Three Friends of Winter." These 'three friends' are evergreens, and the plum tree even blossoms during winter. The pine tree is a popular symbol of the New Year.'(exhibition catalogue, Lee Man-Fung, back in the Netherlands after seventy years, p. 12)
It is interesting to see that Lee Man Fong valued this painting nearly just as important as the Eagle. The price for Awakening Eagle was 250 Dutch guilders, while the price for Pine Tree and Stones was 200 Dutch guilders. The art critics, visiting the 1950 exhibition at the lovely Haarlem Market Square, were captured by the amalgamation of East andWest, traditional and modern:'The fierce way of depicting the Notre Dame, the delicately fluent outline of the reclining nude, they all have a common ground with our contemporary artists. How many of them haven't studied ancient Chinese and Japanese art!, and how many of them have unconsciously interwoven derivatives of this ancient art in their work.'(Nieuwe Haarlemse Courant, July 6, 1950)
Man Fong's ability to combine observation & understanding, and Chinese & Indonesian cultural heritage congregate into the upcoming two lots, summarizing the talent and heritage in Lee Man Fong's early body of work. In a way, these two seminal paintings seem connected through the depiction of the pine tree, with its highly symbolic meaning. It is as if one would approach the Pine Tree and Stones from afar, and would slowly but surely distinguish an Awakening Eagle, looming up in the tranquil morning fog.
ir. Gianni OrsiniOctober 2018
More information about our auctions of Indonesian paintings
(veilingen van Indonesische schilderijen):
René de Visser
Zeeuws Veilinghuis
rene@zeeuwsveilinghuis.nl
www.zeeuwsveilinghuis.nl