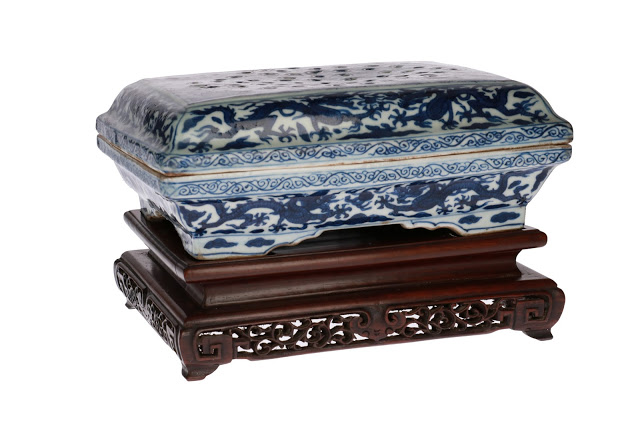 All results are hammer prices.
204: A blue and white 'kraak' porcelain oblong lidded box decorated on each side with two flying dragons with burning pearl. The cover with openwork and decorated with flowers and symbolism. Marked with 6-character mark. China, Wanli.
1212: A polychrome porcelain vase decorated with kneeling figures.
843: A large Famille Verte porcelain bowl, decorated to the exterior with panels in three bands depicting scenes from the 'Romance of Western Chamber' against a green speckled ground with blossoms. The inner rim with shaped cartouches enclosing auspicious emblems against a diaper ground. The centre with figures in front of a garden wall. Marked with censer. China, Kangxi.
797: A gilded polychrome cloisonné enamel musical chime, decorated on both sides with two
five-clawed dragons and a poem by Qianlong. On carved wooden stand. China, 19th/20th century.
1340: A lot of two green and white porcelain bowls, decorated with flowers and birds. Marked with seal mark. China, 20th century. Diam. 25 cm.
€ 11.000
201: A very rare earthenware pillow with straw-colored marble glaze.
China, Tang dynasty. Dim. 6 x 12 x 8,5 cm.
€ 10.500
150: A set of ten porcelain Famille Rose on ruby ground cups and nine saucers. The saucers decorated with one reserve in the shape of a leaf with a very finely painted decor of a bird standing on a peony branch. The cups with two similar reserves. Unmarked. China, Yongzheng.
747: A square-shaped Yixing teapot. Marked with 7-character mark and seal mark Zi Jun.
701: A blue and white porcelain gourd vase,
decorated with mountains in a river landscape and anglers.
Unmarked. China, Qianlong. H. 32 cm.
€ 8.000
More information about our Asian Art Auctions:
Zeeuws Veilinghuis
Middelburg: Herengracht   74 – 0031 (0)118-650 680
Amsterdam: Herengracht 566 – 0031 (0)20-260 2233