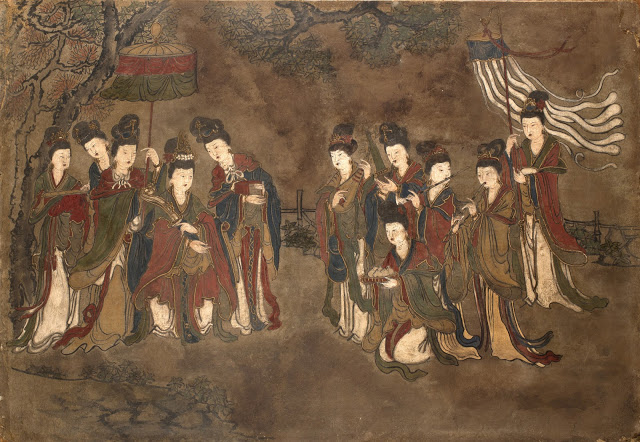 Fresco, China, Yuan-Ming. Dim. 61,5 x 88,5 cm.
Exhibited: Rijksmuseum Amsterdam, 1954.
This auction contains, beside many other lots, several private collections. Below some information about them.
An important Dutch collection.
lot 1 – 171

We are honoured to initiate our auction with a secluded Dutch private collection that has been built in the middle of the 20th century with scholarly knowledge and attention for detail. The heirs of this collection choose to keep anonymity. The collection includes early to very early Chinese porcelain, earthenware, jade and rare ronze. A superb collection like this rarely comes on the market 'en-bloc'.
We would like to draw your attention to the two magnificent early frescos picturing elegant court ladies in a palace garden. These are offered with modest estimations (lot 63 and 64). The frescos came to the West during the end of the reign of the Qing dynasty. They are in almost immaculate condition and were once part of the collection of the Belgian ambassador to the Netherlands in The Hague, baron Craeffe. They have been on loan for exhibition in the Rijksmuseum Amsterdam in 1954.
Very rare is a large polychrome tian qiu ping, Ming period dragon vase with a modest estimation of € 5.000 – € 7.000 (lot 142).
There is a collection of early to very early jade carvings of bidiscs, congs, belt hooks, animals and other sculptures.
Very decorative and even more rare are two miniature turquoise tables from the Kangxi period, objects that hardly came on the market at all in recent decades, as far as we know (lot 148 and 149).

A few items of the noble family collections of Six and Bosch Reitz.
Lot 201 – 216

These lots belonged to the private collection of Sigisbert Chretien (Gijs) Bosch Reitz (1860-1938), who bequeathed it to his favourite nephew, the son of his sister and Prof. Jhr. Dr. Jan Six; by descent it came into the Six family.
Bosch Reitz was a gifted painter and also head of the Asian Art Department of the Metropolitan Museum in New York.

A Dutch collecting couple.
Lot 301 – 352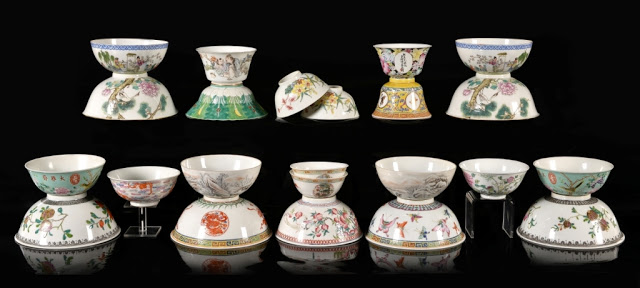 "We have been keen collectors of Chinese ceramics for a long time, but our taste was rather eclectic. Many collectors start off without a fixed purpose and then gradually discover what their likes are. So far this has been an interesting journey full of discoveries. It has led us to many attractive places, from shops and fairs to exhibitions and libraries, from Berlin to Boston. Sometimes it took many hours to find a specific shop we had just read about in a local antiques magazine. Of course, if you do not find that particular out-of-the-way shop, which is what often happens, you have at least the pleasurable experience of anticipation.
Looking at the items that will now be offered for sale at Zeeuws Veilinghuis we still feel the joy we had when we first spotted them. Many of them we discovered in the Rue Lepante in Nice, so many years ago. The shop no longer exists, but we still remember our surprise, seeing all those objects in a style of decoration we had just become familiar with through the exhibition From Empire to People's Republic at the Gemeentemuseum in The Hague in 1986.
It is always interesting to see your acquisition in a book or museum. An example of such a surprise meeting are the two small saucers decorated in 'Chinese taste' with 'a design that goes over the rim' that we discovered in Van Oort's Chinese Porcelain of the 19th and 20th centuries. We did not come across an identical pair ever since.
Our own e-book (forthcoming) describing our collecting history will be published soon with the title China Tales".
A Dutch collecting couple.
Various Japanese and ivory Items, including a collection of netsuke
Lot 401 – 439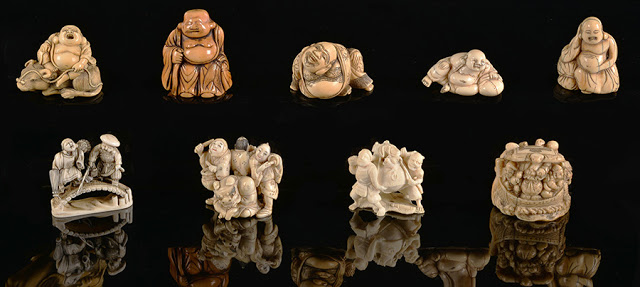 A Dutch private collection of Chinese porcelain, acquired in the period 1970-1980. 
in Hong Kong and China, as well as with Christie's and Sotheby's.
Lot 1101- 1432

Several pieces were exhibited and on loan to the Leiden Museum of Ethnology during the period 1977-1995. The former curator Mr. Gan Tjiang-Tek included several of these objects for his lectures.
AUCTION:
Tuesday March 20, 1.30 pm
Lot 1 – 171
Lot 201 – 216
Lot 301 – 352
March 20, 8.00 pm
Lot 401- 439
Lot 501 – 588
Wednesday March 21, 10.30 am
Lot 601 – 1003
Thursday March 22, 10.30 am
Lot 1101 – 1432
VIEWING:
Friday March 16: 1.00 pm – 5.00 pm
Saturday March 17: 10.00 am – 4.00 pm
Monday March 19: 10.00 am – 5.00 pm
Tuesday March 20: 10.00 am – 12.00 pm
More information: www.zeeuwsveilinghuis.nl