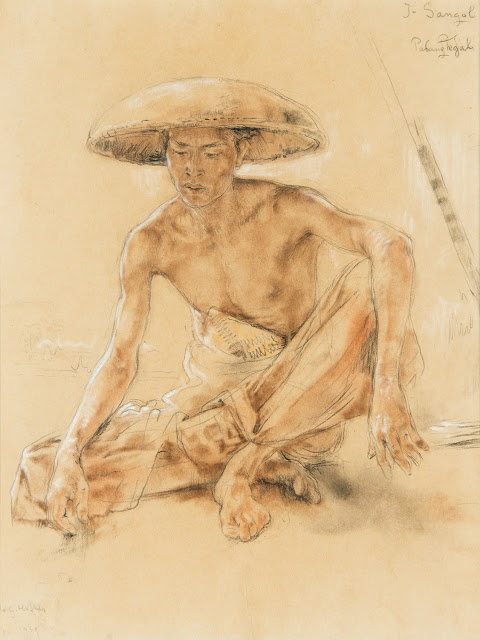 WILLEM GERARD HOFKER (1902-1981) 'I Sangol, Padang Tegal',
November 1939, graphite pencil, conté crayon and gouache on coloured paper, 32 x 24 cm
Literature:
– Spruit, R.: Artists on Bali, The Pepin Press, Amsterdam (NL), 1995, p.76, illustrated in colour.
– Hofker, S., & Orsini, G.: Willem Gerard Hofker (1902-1981), Waanders de Kunst, Zwolle (NL), 2013, page 149, plate 191, illustrated in colour.
Exhibition: Europeesche Schilders op Bali, Soerabaiasche Kunstkring, Surabaya, December 1-15, 1939, where Hofker exhibited Balinese work with Bonnet, Spies, Meier, Pol, Pol-Mees and Foster, and most probably sold the present lot.
Provenance: Private collection, the Netherlands
'Willem Hofker is showcasing a dozen very well executed drawings; his art has a subtle finesse, proving his complete control of the crayon. Especially the work in mezzotint reveals some attractive aspects; the gloss on the skin of a Balinese model's back or breast in brown and light shades, and the fresh colours of a Balinese woman carrying a singha show us we are dealing with dedicated works of art by a most gifted artist.' (Indische Courant, December 2, 1939)
After his formal education at the Royal Academy of Fine Arts in Amsterdam, and winning second prize at the Prix de Rome in 1924, Willem Hofker became a well-known artist in the Netherlands during the 1930s. In 1936, Willem Hofker was invited by the Batavia headquarters of the KPM (Koninklijke Paketvaart Maatschappij) to make a portrait of the Dutch Queen, Wilhelmina. Moreover, he was asked to combine the portrait presentation in Batavia with a sojourn through the Dutch East Indies and draw documentary impressions of the country. From 1940 onwards, KPM reproduced these drawings to promote boat travels to the Indies. Willem and Maria Hofker happily lived in Bali from 1938 until 1943. Having gone through the horror of war and Japanese camps, Willem and Maria returned to the Netherlands in 1946. The official portraits Hofker made of queens Wilhelmina and Juliana helped to regain his reputation as a portraittist.
Willem Hofker was known to occasionally draw portraits from photographs, both in Bali and the Netherlands, yet with an estimated 1,000 commissioned portraits, he was like no other able to immortalize a human character onto paper or canvas from life: '…the lighting is sometimes unimaginable in a dark barn seated on the floor – the natives typically sit on the floor – so you have to do it yourself, otherwise you look down on them! It's certainly a great adventure for my work and my painting style. Good that I took on this "task". I hope to come back an Isaac Israels.'
(Willem Hofker, July 23, 1938, Denpasar)
We see I Sangol, a Balinese farmer or petani Bali, dressed in a sarong, and a hat that protects him from the tropical sun. It is a capil, a hat woven from bamboo leaves, with a cilindric band inside that fits the wearer's head. The shape of the capil differs per region; it depends on which type of flora is growing and available. It seems these spheric capil were typical of the Ubud region. In his sarong, the man seems to hold a dompet, a square woven wallet, notably the only part of the drawing with ochre yellow conté accents. It is not quite clear what Sangol is doing, but he is probably taking a rest, while posing for the artist. Behind him, we see the suggestion of a agricultural instrument. It might be an udud, a rake-like tool to prepare the land for ploughing and planting rice. This is touching an essential part of the indigenous culture. Balinese people don't see rice merely as food; it is considered a source of life and wealth, created through the symbiosis of Vishnu, God of Water, and Mother Earth. I Sangol was probably a rice farmer, but he might also have been a member of the Padangtegal subak, the local organisation that controls the complex irrigation systems and arranges the region's planting and harvesting of rice. Perhaps we see Sangol inspecting the soil after other farmers have ploughed the field, preparing the very sawah that Hofker suggests in a few sketchy lines in the distance.
Late November, 1939, Willem and Maria moved from Denpasar to Ubud for a period of six weeks, to see if they would feel at home. The present drawing was made during the first days of this temporary stay at 'Abangan'. Hofker portrayed I Sangol nearby their new home, at Padangtegal, Ubud.
In Java, during that same period, from September until November 1939, the travelling exhibition 'European Painters of Bali' had been running in Batavia and Bandung. Adorning the exhibition with their magnum opus, Bonnet and Spies were arguably the key exhibitors, accompanied by Willem Hofker, Theo Meier, Willem Jilts Pol and his wife, and a female painter called Jane Foster. Hofker sold 4 from the 11 works he had consigned during these two exhibitions, so he decided to add a few more, just before the start of the subsequent exhibition in Surabaya (December 1-15, 1939) where he allegedly exhibited 'a dozen very well executed drawings'. In a later newspaper review, it is mentioned that Hofker sold 3 of these in Surabaya, one of which must have been the present lot. Selling 7 works in total made Hofker into the exhibition's best-selling artist by quantity.
The present portrait of the Balinese rice farmer I Sangol is a full-fledged drawing, with intricate pencil and conté details of Sangol's concentrated facial expression, his hands and feet, and the anatomy of his torso. Hofker cleverly uses the medium of coloured paper by applying white gouache paint to indicate some contre-jour highlights on the sitter's arms and sarong. This drawing shows Willem Hofker's remarkable talent to capture not only the personality of the sitter, but more importantly, the representation of an ancient culture. Now, almost 80 years after its completion, I Sangol is presented at auction, restored to the original condition and colours once again, the way Willem Hofker intended.
Gianni Orsini, May 2018
More information about our Indonesian auctions (Indische veilingen):
René de Visser
Zeeuws Veilinghuis
Herengracht 74
4331 PX  Middelburg
0031 (0)118-650680