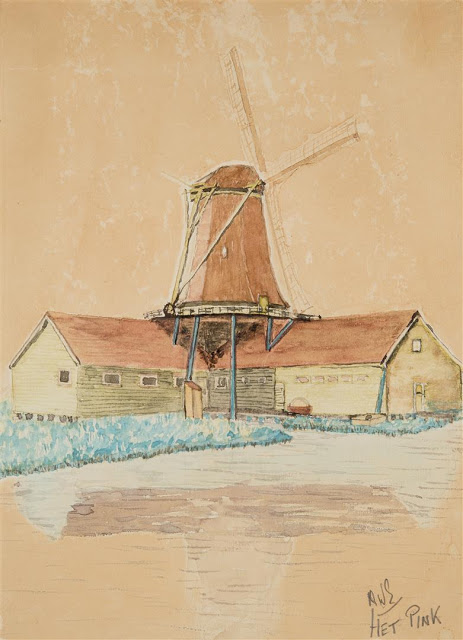 Arie Smit (1916-2016) 'The windmill 'Het Pink'', Indonesian Art Auction 6th of December 2019
Arie Smit (1916-2016) lived in Indonesia from 1938 until his death. He spent his young years in his native region, the Zaanstreek (a water-rich polder area) just above Amsterdam, where traditionally many mills were and still are.
The construction of industrial mills in the Zaanstreek began in the year 1600. At its peak there were more than six hundred mills in operation, making the region the most important industrial area of Holland for centuries. At a young age Arie Smit set out to capture his surroundings in drawings or watercolours. These mills in particular had his attention. He was fascinated by their beautiful shapes and the buzzing sound of the powerful rotating blades.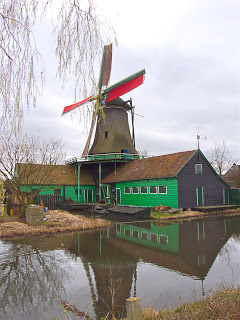 Windmill 'Het Pink' nowadays
The mill on this watercolour, 'Het Pink', was built in 1620. It is the oldest remaining mill in this area. In the last century this oil mill was restored to its former glory and nowadays it is still in operation for the production of linseed oil.
Arie Smit made the watercolour before 1930, and it is probably his earliest known artwork.
The piece was found in the legacy of my father, Arie Smit's youngest brother Bert.
Lucienne Smit (niece of Arie Smit),author of 'Arie Smit, A Painter's Life in the Tropics', Picture Publishers, 2016.
More information about our auctions of Indonesian paintings:René de VisserZeeuws Veilinghuis – Zeeland Auctioneersrene@zeeuwsveilinghuis.nl
www.zeeuwsveilinghuis.nl