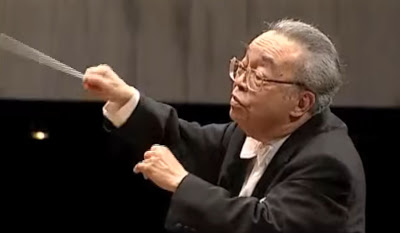 In October 2018, we organized the exhibition 'Lee Man Fong, back in the Netherlands after seventy years'. The exhibition was opened by the Ambassador of Indonesia, His Excellency I Gusti Agung Wesaka Puja. Besides a renewed introduction to Lee Man Fong for the Dutch public, we also hoped this would help us gather more information for a book about Lee Man Fong's Dutch period. We received more information, but we still have many questions. Thats why we asked Jacquelina van den Acker to help us with further research.
An interesting discovery was that Man Fong during this period surrounded him with other Chinese Indonesian artists. Jacquelina found for example that in Amsterdam, he and his wife lived in the same house with Lim Kek-tjiang (1928 Borneo, Indonesia – 2017 Melbourne, Australia), an important violinist and conductor.
Lim Kek-tjiang conducts the Evergreen Symphony Orchestra in Taiwan in 2003 during a performance of Tchaikovsky's Symphony No 4 in Taiwan.
The largest classical music label Naxos wrote about him (https://www.naxos.com/person/Kektjiang_Lim/31746.htm):
Lim Kek-Tjiang was one of the most famous Chinese conductors and violinists. He started to take violin lessons at the age of eight. At the age of eighteen, he was awarded a scholarship by the government of the then Dutch East Indies to study at the Amsterdam Conservatory. He graduated from the conservatory in 1950 "cum laude" with the Distinction of Virtuosity. In 1959, Lim left Indonesia for China at the invitation of the Chinese government to take up an appointment as music director and principal conductor of Central Radio Symphony Orchestra and to teach at the Beijing Central Conservatory of Music. Lim was the music director of the Hong Kong Philharmonic Orchestra in later years. Lim moved to Australia in 1976. He regularly guest-conducted and appeared as soloist with the country's leading orchestras, and also taught at Australia's leading music schools. Lim was the principal guest conductor of Japan's Gunma Symphony Orchestra. He worked with many orchestras in Japan, China, Korea, Germany and Singapore during that period. Lim moved to Taiwan in 1991 and served as the music director of the Evergreen Symphony Orchestra of Taiwan. In 2008, Lim conducted two concerts organised by the Taiwan National Symphony Orchestra in celebrating Lim's eighty years birthday.

Video: Corelli-Leonard: La Folia played by Lim Kek-Tjiang
This is just one of the results we found till now.
Do you have more information about Lee Man Fongs European period? Or images of that time? Please contact:
René de Visser
Specialist Indonesian paintings
rene@zeeuwsveilinghuis.nl
Zeeuws Veilinghuis – Zeeland Auctioneers
www.zeeuwsveilinghuis.nl