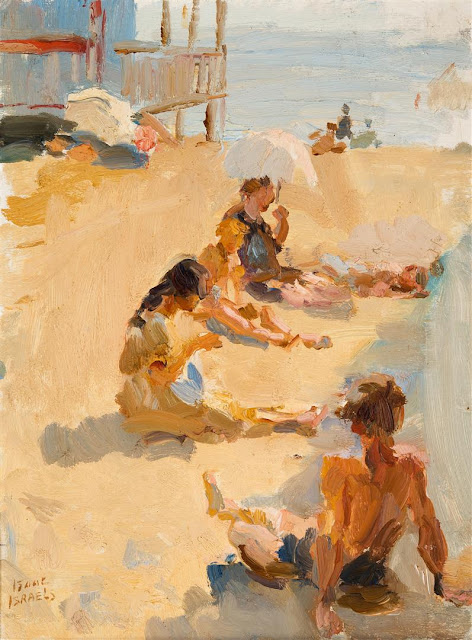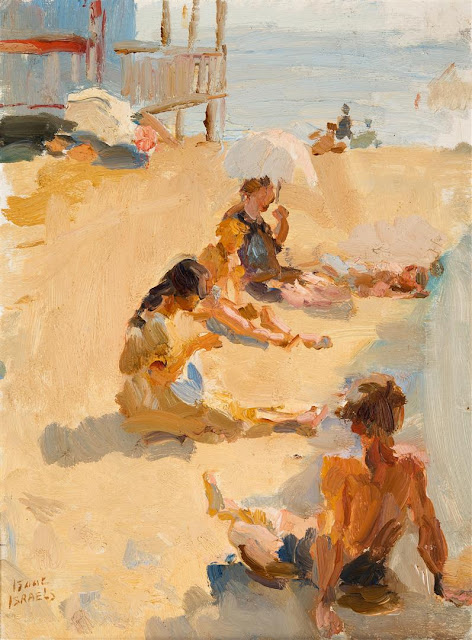 Isaac Isreals (1865-1934) – 'At the beach, Viareggio, Italy'
Our auction of 23 November 2021 contains this sunny beach impression by Isaac Israels.
Joseph Gompers wrote an article about him in 1930. Below you can find an extract where he also mentions a few beach paitings by Israels.
The works of Isaac Israëls, collected here, confirm that the painter is above all: cosmopolitan, whose land is the world, whose ideal is the beauty of nature. Israëls is an impressionist and as such I would like to characterize him as the Poet of Color. Few painters have discovered as many shades of color in nature as Isaac Israels. When we compare a beach study as 'No. 61' to the works which he has called 'Strand Viareggio' and 'Strand Portorose', it will be difficult for the observant viewer, who sees the difference in color of the sand, for instance, to say exactly and clearly where those color differences lie. And yet they are there. And yet it is precisely those extremely fine hues that give these paintings a different mood every time.
Israëls is an eager painter. His works express a longing for life, for the sun, for the light, for flowers and colorful birds. His canvases are delightful in spontaneity, yet they do not give the impression of being hastily produced. The fresh daring, the extraordinary ability to observe colors, the optimism that underlies the compassion of his soul, give his canvases a liveliness that is only possible with the very greatest.
Joseph Gompers in 'Joodsch weekblad', Amsterdam 07-03-1930, p. 364
(about an exhibition at Arti et Amicitiae, March 1930).
More info about our auctions:
Zeeuws Veilinghuis
Middelburg – Amsterdam
The Netherlands
www.zeeuwsveilinghuis.nl